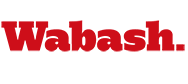 Inspector General Runs Through Saturday
by Karen Handley

October 2, 2008

Get directions to Wabash College Fine Arts Center

The Wabash College Theater Department will present its first production of the season, The Inspector General by Nikolai Gogol. The play will run from October 8-11 in Ball Theater in the Fine Arts Center. The performances are scheduled for 8 p.m. each evening.

Check out the actors and their characters in photo albums here and here.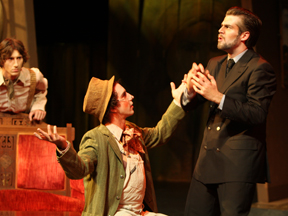 When the corrupt mayor of an unimportant Russian town discovers the Tsar has sent a government inspector to examine the local bureaucracy, the panic-stricken town officials set about wooing a mysterious stranger who has just taken residence at the inn. They offer the stranger food, drink, bribes, and the mayor's daughter to influence his report, only to find out the supposed inspector is a penniless con artist. In this 1836 farce, Gogol holds up to ridicule everything rotten in Russia.
The cast list includes Wabash students: Matt Goodrich as the Mayor; Jorge Rostro as the Judge; Luke Robbins as the Superintendent; Ronald King as the Warden; James Brazill as the Doctor and Grisha; Reed Hepburn as the Postmaster; Jon Hogge as Bobchinsky; Clay Zook as Dobchinsky; AJ Hudson as Svistunov; Jake Peacock as the Chief of Police and Gendarme; Mark Lewellyn as Derzhimorda; Jake Sauer as Osip; James Morey as Khlestakov; Korey Jones as Mishka; Jacob Nettnay as Korobkin and waiter; and Patrick McAllister as Abdulin. Wabash faculty and staff includes: Kristen Willkins as Anna; Macie Rudoff as Marya; Crystal Benedicks as the Locksmith wife and Korobkin's wife; and Amina McIntyre as the Corporal's wife.
Wabash Assistant Professor of Theater James Phillips is the director.
Seating for Theater productions will be by general admission, though free tickets are required.
For tickets contact the Fine Arts Center Box Office by email at boxoffice@wabash.edu; or by phone: 765-361-6411. Box Office hours are Monday through Friday, 8:30 a.m. to noon and 1:30 to 4 p.m. The box office will open 90 minutes before curtain time. Tickets not claimed at the Box Office 10 minutes prior to curtain will be released to the general public.
Other theater productions for the 2008-2009 season include: Studio One Acts on November 5-6; The Pillowman on February 18-21; and The Importance of Being Earnest on April 15-18.