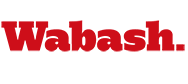 First Half Carries Little Giants Past Kenyon
by Howard Hewitt

September 27, 2008

Gambier, Oh. – Wabash over-powered Kenyon with five first-half touchdowns in its first visit here in six years. The Little Giants powered past the NCAC Lords, 55-13.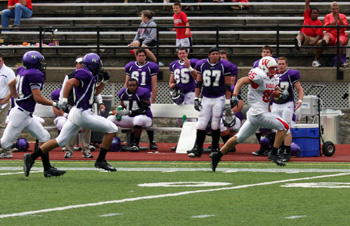 Sophomore Kody LeMond had another monster game hauling in 12 passes for 228 yards and 4 touchdowns. His 228 yards was the second highest total ever recorded by a Wabash player.
The Little Giants picked off four Kenyon passes, and returned one for a touchdown. (View photos here and here.)
The Lords first score came on a kickoff return to open the second half. The defense did not allow Kenyon's offense to score until 3.4 seconds remained in the game.
Kenyon entered the contest having allowed more than 300 yards offensively in each of its previous games. Wabash ran up a season-high 542 yards – 325 in the air and 217 rushing.
"I thought we ran the ball well today," junior quarterback Matt Hudson said. "Bobby (Kimp) gave us a great start with all of his rushing yards in the first quarter. Then (Derrick) Yoder came in when Bobby got a little nicked up and ran very hard. He had a couple of big runs that were called back because of penalties. That's something we have to get cleaned up as an offensive unit."
Bobby Kimp had his first 100-yard rushing game with 116 yards on 16 carries with two touchdowns. Derrick Yoder had a big day with 73 yards and a score.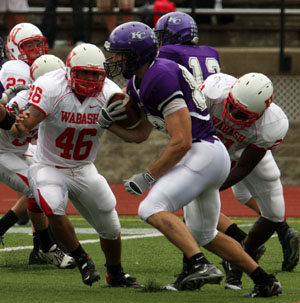 Kimp ran the ball in from 18 yards to get the Little Giants on the board in the first quarter then LeMond and Hudson went wild. The duo connected on scoring passes of 10 yards, 10 yards and a beautiful play fake for a 70 yard score.

"The offensive line, Hudson, and our running back sold the fake," Lemond said. "The play action just got them. When I was 10 yards downfield I think I was already five yards behind the deepest defender.

"I actually ran the wrong route on that one. It worked out alright though. Hudson threw a great ball."

Kimp added another score from nine yards out to put Wabash up 35-0 at the half. Perhaps the lone disappointing moment of the game for Wabash came to open the second half when Harry Von Kann returned the kickoff 98 yards for the Lord score.

The second half was more Wabash offense with LeMond adding his fourth TD, Yoder getting a 17-yard score, and defensive back Jake Martin returning an interception 63 yards for Wabash's final points.

"Defensively I thought we played really well," Raeburn said. "We felt this would be the best offensive line we've faced to this point. Kenyon has a very good running back and some big, tall receivers so we felt this would be a good test for our defense. I thought they rose up to the occasion."

Wabash forced six turnovers while holding Kenyon to 113 rushing yards. Senior Jared Lange led the Wabash defense with eight tackles. Addrian Frederick, Dan Ryan Wood, and Chris Schweigel also made interceptions for the Little Giants.

"It's a mental thing," Schweigel said. "You want to come into the game not counting a team out. You want to play hard. It is tough not to get lackadaisical."

The Little Giants were whistled for nine penalties for 71 yards. Kenyon drew 10 penalties for 119 yards, including six major penalties.

The Lords got a touchdown in the final seconds against the Little Giant reserves.

Wabash (3-0) will host Allegheny at Hollett Little Giant Stadium Saturday.

Photos - (Top left) Kody Lemond races toward the end zone for a 70-yard touchdown reception.

(Bottom right) - Seniors Abe Llamas and Darryl Kennon get to Kenyon's Mike Hermanson.




Results: Wabash 55, Kenyon 13 Game Stats