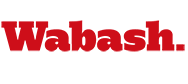 Class Agents Honored for Service
by Jim Amidon

September 20, 2008

Wabash President Patrick White welcomed the College's Class Agents to campus for their annual Class Agents Forum, saying the loyal alumni served as mirrors for the College and telescopes for their fellow alumni.

"Without you as mirrors, Wabash cannot see itself or know itself," the President said.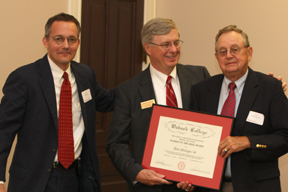 More than 40 of the College's Class Agents returned for Friday night's reception and dinner. The number is expected to swell for Saturday's activities, which includes conversations related to reunion planning and the experiences of current students.
See pictures from the awards banquet for Class Agents.
Class Agent, Lawyer, and part-time Wabash Professor Scott Himsel '85 served as master of ceremonies Friday evening and presented a number of awards to Class Agents.
Honorees included Dale Milligan (right) of the Class of 1949. Himsel explained that Milligan's work since taking over 20 years ago as Class Agent for the men of '49 had been exemplary. Milligan was honored for his 20 years of service, and received the highest honor for a Class Agent, the Warren W. Shearer Award for distinguished service.
Tom Billings '63 was honored for his lifetime of service as Class Agent for his class.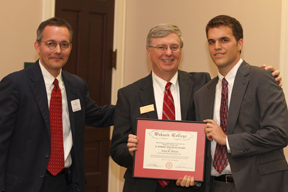 Two young Class Agents were also saluted. Ross Dillard (left) and Josh Owens of the Class of 2007 received the R. Robert Mitchum Award as outstanding young agents. The duo was exceptionally involved students as undergraduates, Himsel explained, and championed a very successful Senior Gift Campaign. More remarkable — in fact, unprecedented — is the fact the Class of 2007 actually increased its class giving in the first year after graduation.
"That's never happened at Wabash and is testament to the hard work Ross and Josh put into being Class Agents," said Tom Runge '71, Director of Alumni Affairs.
Jim Roper of the Class of 968 was also honored, though he was unable to attend the Forum. Roper and his Big Bash Reunion Chair Jim Millikin executed the most successful reunion weekend in Wabash history, and shattered the previous attendance record with 80 alumni back in June for their 40th reunion. The Class also boasted an annual giving percentage above 50 percent.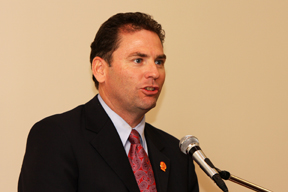 New Dean of Students Mike Raters '85 was the keynote speaker at Friday's dinner, and used the occasion to explain to Class Agents how students at Wabash today are very much similar to students at Wabash over time. He also said that there's no better example of that then when students and alumni across generations gather together to unite in song — in singing Old Wabash.
"Our men [today] love challenges and most often meet them with rigor and success," said Raters. He talked about the challenge facing the fraternity system at Wabash with declining membership, and how the InterFraternity Council brought leaders together to create a plan to meet the challenge. Raters said that this year more than 68 percent of freshmen chose to pledge a fraternity.
The success doesn't happen only in extra and co-curricular activities, Raters explained, saying that the campus has an overall average GPA of 3.003, testament to the work ethic of Wabash students.
Raters also talked about the integrity of the student body, citing a survey done last year during strategic planning that revealed 75 percent of Wabash students believe the number one characteristic most desired in prospective students is integrity and men who embrace the Gentleman's Rule.
Raters said that extends to the community. "I don't remember previous generations of students being as aware of and involved in community service as we see today."
And Wabash students are connected. "Our guys are connected to each other and the outside world in ways that most of us can't imagine when we were here.
"I'm also impressed with how well-connected our students are with our alumni," Raters concluded.
Class Agents will continue to build on those connections throughout the weekend. After dining with student leaders, Agents will have discussions with members of the Sons of Wabash, before attending dedication ceremonies at the Tau Kappa Epsilon and Delta Tau Delta fraternity houses. The weekend ends with the Class Agents attending the Wabash football game.
"Wabash alumni help our students… positively change the world," said Raters.