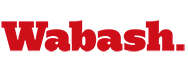 Wabash Announces Athletics Facilities Campaign
by Jim Amidon

September 18, 2008

The improvements to Wabash's intercollegiate, intramural, and recreational facilities begun seven years ago will be completed at the start of the 2009 school year.

Wabash announced today a $6.2 million campaign to upgrade the College's outdoor athletics facilities, which will complete work begun in the Campaign for Leadership when the $20 million Allen Athletics and Recreation Center was dedicated in 2001.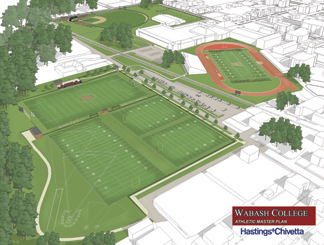 "Wabash student-athletes have great expectations for themselves in all aspects of their lives, in their performance in academics, in sport, in service — as gentlemen and citizens," said Wabash President Pat White. "With these fine new and renovated facilities, the fields will match their dreams and provide the best place for Wabash men to excel, for Wabash fans to be inspired by their achievement, and for the learning and growth that comes with sport to continue to thrive at Wabash."
To date more than $1 million has been pledged to The Wabash Edge: The Fund for Athletics Facilities.
"We are very excited to be able to upgrade our outdoor venues to match our first-rate indoor facilities," said Director of Athletics Tom Bambrey. "This summer, we completed a major upgrade to the indoor tennis center, and now we will move forward to outdoor spaces — football, soccer, and baseball, with attention also to practice areas, intramurals, and recreational spaces."
"I think what this represents is Wabash demonstrating our commitment to Division III student-athletes and excellence in both the classroom and the athletic fields," said Tobey Herzog, who is the Faculty Athletic Representative.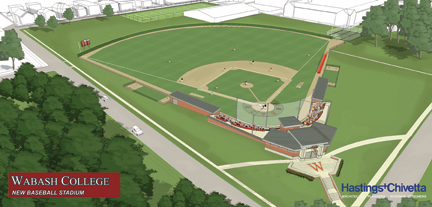 The project includes construction of a dedicated baseball stadium just southwest of the Allen Center. The stadium will include permanent seating for fans; a press box, concession, and restroom complex; and batting cages, bullpens, and a new scoreboard.
Mud Hollow Field will be transformed into the home of the Wabash soccer team with a new stadium with permanent seating, synthetic playing surface, press box, and restrooms.
Mud Hollow will also have two synthetic fields that can be used for football practice and intramural sports. An additional natural grass field will also be developed and used for varsity sports practice, intramural sports, and field events during track and field season.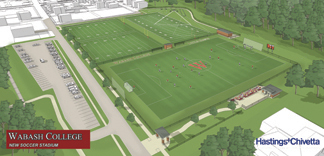 The most significant change to Byron P. Hollett Little Giant Stadium will be the installation of a synthetic playing surface. New advances have produced a number of quality surfaces, which reduce on-field injuries and are less expensive to maintain.
Renovation on the Collett Tennis Center, named for former Board of Trustees Chairman John P. Collett '24, has begun through funding from the Class of 1976 John P. Collett Fund. Initial improvements include new indirect lighting and insulation; curtains to divide the three courts; resurfacing and painting of the indoor courts; new ventilation systems; and new nets and net posts.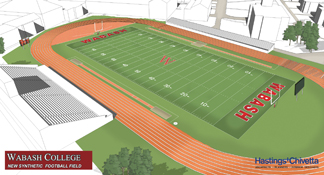 "It is awesome and first class in every way," said Tennis Coach Jason Hutchison. Anyone who remembers the old building will not believe their eyes when they see it. This is going to help tremendously with recruiting. No longer will I be wary of taking recruits to our center."
"This is a comprehensive project in many ways," said Dean for Advancement Joe Emmick. "It provides state-of-the-art NCAA competition facilities, yes, but it is much more than that. It improves the health and safety of our varsity and intramural athletes; it excites young men, even those who are not varsity athletes, about Wabash College; it dramatically improves the look of the south and west sides of our campus; and, it is an opportunity for us to engage a very loyal segment of our alumni base."
Donors who already have made leadership gifts to the $6.2 million project include Bill '83 and Carol Wheeler, Pete '84 and Melanie Wilson, David '57 and Patricia Parry, Jim '84 and Kerry Kilbane, Scott Dreher '82, Tom '50 and Lenore Cassady, Don '72 and Carol Shelbourne, the Class of 1976, and an anonymous donor.
For more information on the facilities and how to support the effort, please contact Steve Hoffman by email or phone (765) 361-6236.