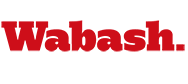 Wabash Opens With NCAC win at Denison
by Howard W. Hewitt

September 13, 2008

GRANVILLE, Ohio – Matt Hudson teamed Saturday with sophomore receiver Kody Lemond for three touchdowns to lead the Little Giants to an NCAC and season opening win, 41-27, at Denison. Hudson threw three more for a school record helping Coach Erik Raeburn to a win in his Wabash College debut.

With much of his stellar 2007 receiving corps gone to graduation, the junior quarterback made big use of the speedy sophomore - finding him on 8 passes for 177 yards. (View photos from the game here and here.) Football Blogs: View video comments from Coach Raeburn about the game, also a new entry by kicker Drew Oehler in the Little Giant Football Blog here. Little Giant Quarterback Matt Hudson has updated his student blog here. Jim Amidon writes about and shares photos of that spectacular Lemond catch in the Public Affairs FYI blog here.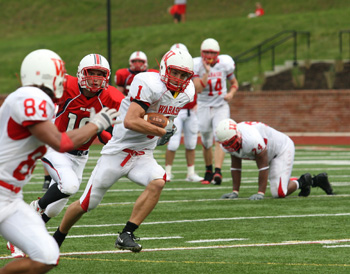 None of the catches were as exciting or important as a 41-yard tipped pass with just 10 seconds left in the first half. A Big Red defender deflected the pass near the end zone and high into the air, Lemond dove and caught it in the back of the end zone.
"Oh man, I kind blacked out on that," Lemond said. "I really don't remember how that happened. It was a comeback and go where I run 15 yards and break out then break back. He didn't really bite on it. The defender played it well; he just tipped it at the last second. I just tried to locate the ball and fortunately it was not uncatchable and I got it."
The catch stymied a late first-half Denison rally. The Big Red had pulled to within one, 14-13, with under a minute to play. The diving-Lemond catch changed the momentum back to the Little Giants at the half, 21-13.
"Kody made some amazing plays today," Hudson praised. "That one down in the end zone that he tipped was unbelievable. He bailed me out quite a bit because, honestly, the passes I threw weren't very good today. "
Hudson was perhaps a bit modest. His six touchdown throws tied a record set by Jake Knott in 2000. If it wasn't modesty, it might have been a touch of nerves. Wabash graduated most of its receiving corps and traveled with three freshmen wideouts on the roster.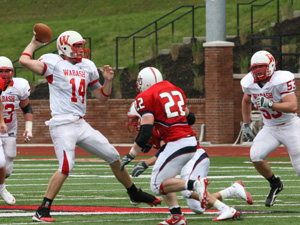 "The perceived weakness of our offensive team going into the season was the receiving corps," Hudson said. "We can't mince words, they didn't have much experience other than Andrew Rode and of course Brock (Graham). But the outside guys Wes (Chamblee) and Kody hadn't really had that much experience.'

Rode, who has donned the No. 1 jersey, had six catches for 109 yards including a 60-yard second half score. Chamblee pulled in six for 39 yards and added a 62-yard kickoff return. Graham had a mere three catches for 34 yards but made the most of them with two touchdowns.

The Little Giants accumulated 501 yards of total offense to Denison's 327. The running game accounted for 110 yards with Bobby Kimp picking up 70 with a long of 18 yards.

"I thought we did alright offensively," Raeburn said. "We had some mistakes but I felt like we shot ourselves in the foot more times than they just out-executed us. Those mistakes are easy to fix. I thought we passed and threw for more yards than I would have guessed we'd be able to with all the experience they had back in their secondary."

After the spectacular half-ending Lemond grab, the Little Giants seemingly took control of the game.

Hudson found Lemond again and then threw a 60-yard TD to Rode and an 11-yard score to Graham. The junior quarterback threw for 391 yards on 26 completions in 35 attempts.

To Denison's credit, the Big Red came back with two late touchdowns after trailing 41-13.

"I was a little disappointed," Coach Erik Raeburn said of the Denison comeback. "I thought we had a chance to close it out. We had some penalties and some mistakes to let them back in it."

Penalties were a big Wabash problem, particularly on defense. The Little Giants were flagged 13 times for 128 yards.

"It feels like we had about 500 yards worth of penalties, maybe not quite that bad but that's what it felt like," Raeburn said. "Some of that I think can be attributed to it being our first game but some of it is just a lack of concentration. So we need to get that cleaned up."

Senior Josh Gangloff led the Wabash defense with nine tackles. Derrin Slack added eight stops. Bryan Watson and James Pannell each had seven tackles.

Raeburn admitted he had heard from plenty of friends and Wabash faithful about getting his first win. "Everybody keeps giving me a hard time about it," he said. "So my response has been you can't get the second one until you get the first."

The 1-0 Little Giants host the University of Chicago Saturday. Denison (1-1) has a bye week.

Photos - (top left) Andrew Rode breaks free for a 60-yard touchdown in the third quarter.

(Bottom right) Quarterback Matt Hudson threw for 391 yards and six TDs in the Little Giants win over Denison.




Results: Wabash 41, Denison 27