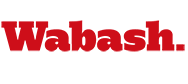 Little Giants Win Second Straight Shutout
by Brent Harris

September 3, 2008

CRAWFORDSVILLE, Ind. — Freshman goalkeeper Pat West made six saves and his defense came to the rescue for a seventh to lead Wabash to a 1-0 win over Millikin on the soccer pitch at Mud Hollow Field Wednesday afternoon.

The Little Giants battled throughout the match in a physical contest that featured 36 fouls and four yellow cards.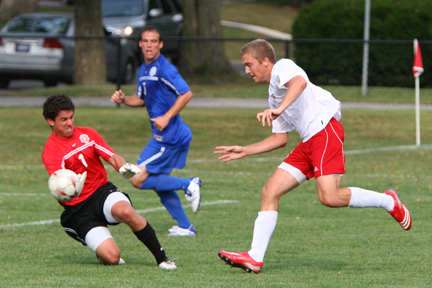 Wabash nearly posted the first goal of the match in the opening seconds when red-hot forward Austin Jennings, who scored three goals in the Little Giants' 4-0 win Saturday against Holy Cross College, blasted a shot toward the net in the first ten seconds of play. Big Blue goalie Bruce Janek turned the shot aside, but would face four more attempts throughout the match. (View photos from the Little Giants' win here and here.)
Millikin had its best chance in the tenth minute when Andrew Cudone slipped a ball past West in front of the goal. A Wabash defender stepped behind the goalkeeper and slammed the ball away from the net, preserving the shutout.
The Little Giants put a shot past Janek in the 32nd minute when Femi Oluyedun passed a ball from the right corner to the left post to Dylan Andrew. Andrew collected the pass and drilled a shot into the back of the net for his first goal of the season.
"Millikin forced us out of our style of play a few times," head coach Roberto Giannini said after the match. We did a good job of regrouping except for the final 15 minutes when it became a dog fight." (Listen to more comments from Coach Giannini here. [Quicktime file])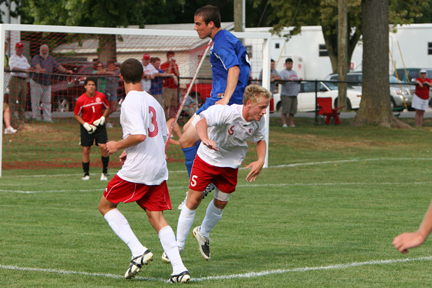 The Big Blue outshot Wabash 16-10, including a 9-3 edge in attempts in the final half of play. Millikin had seven shots on goal to four for the Little Giants.

The 2-0 start is the best for a Wabash soccer team since the Little Giants opened 3-0 in 1997. Wabash started with a 3-0 win against Millikin that season before winning the Wabash Invitational with a 1-0 victory against Hope and a 3-0 win over Olivet.

Wabash will try to improve its record with two road matches this weekend. The Little Giants play at Aurora University Saturday afternoon at 12 p.m. (CDT) before finishing at the University of Chicago Sunday at 12 p.m. (CDT).

Photos - (top right) Austin Jennings takes an early shot.

(Bottom left) Midfielder Allan Swan carries some extra weight while going after the ball.




Results: Wabash 1, Millikin 0 Game Stats