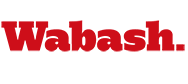 Community Fair Winner for Town, College
by Howard W. Hewitt

September 2, 2008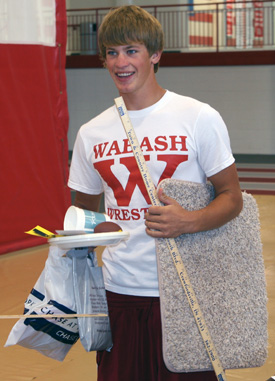 The growing town-gown relationship between Wabash College and Crawfordsville strengthens each year with the annual Community Fair. More than 70 businesses and organizations filled Knowling Field House Tuesday to share with students information about the community.
See photo album from community fair here.
"This is a huge benefit for the students, especially incoming freshmen," Co-Student Chairman Pat Patterson '09 said. "When you first come to a new school you're not sure where to go to eat, where you can get clothes cleaned, and other places to hang out and have a good time. This is a great time for students to come in and see what the community has to offer."
There were churches, social service agencies, banks, clothing stores, hair salons, and even a couple of tow services and body shops. Whether Wabash men need or want a sweatshirt, dinner or a tattoo, they could find options Monday.
"We have about 20 more vendors than we've had in past years," said Patterson, who worked on the project this summer with sophomore Jake German. The two were summer interns in the Schroeder Career Services office, which organized the event.
"We made a real big effort to get to as many shops from the community as we could," Patterson said. "Jake and I went around personally to as many places as we could and talked to business owners to make sure they were included."
Students aren't the only big winners. Dave Long, Montgomery County Chamber of Commerce Executive Director, said merchants see a big benefit.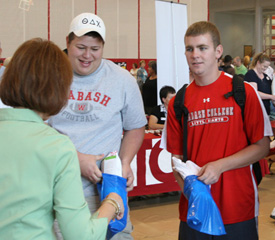 "We think it helps local business just by being visible and to connect with the college," Long said. "There are a lot of times there's not an opportunity for students to get to see the local businesses."
Long added there is a hidden benefit that businesses can do some internal networking with each other while all are gathered in the same spot.
The merchants are not charged for the booth space and hand out lots of food, key chains and coupons to get the students' attention.
"When I was a freshman, I didn't know the places to go," Patterson admitted. "But I came to the community fair and I realized the town has a lot to offer. It might not be the little town everyone might think it is."
Prize winners: Luke Zinsmaster and Chris Zabriskie were selected winners for a Wabash College TrackPack Cooler. Ben Lampkins is the selected winner for a St. Clare bag filled with goodies. Please go to the Career Services office to pick up your prize.