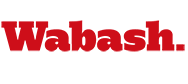 Quick Start Leads Little Giants To First Win
by Brent Harris

August 30, 2008

CRAWFORDSVILLE, IN --- Freshman Austin Jennings made his Wabash College soccer debut a special one. The Noblesville High School product tallied threegoals in the first half of Saturday's 4-0 win by the Little Giants over Holy Cross College.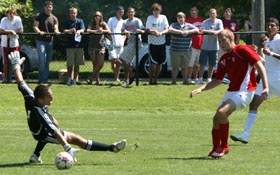 Jennings scored his first goal in the 18th minute, taking possession of a loose ball in front of the goal and blasting it past the Saints' goalkeeper for what would prove to be the game-winning shot. Late in the first half a penalty called on Holy Cross led to a penalty kick for Wabash. Jennings drilled the shot into the upper right corner of the net for his second goal of the game. (View photos from the match here.)
His third would come less than a minute later. With only 30 seconds left in the first half, fellow freshman Josh Pedersen took possession of the ball in the left corner of the field before finding Jennings in front of the net with a perfect pass. Jennings took care of the rest, beating the goalkeeper to pick up the hat trick.
Junior Drew Kapsalis added the final goal in the 69th minute off a pass from the left side from freshman Dylan Andrew.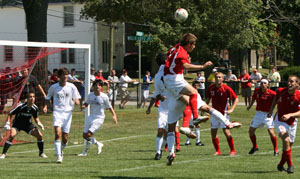 The Little Giants peppered the Saints with shots all afternoon, finishing with a 22-3 edge in total shots and an 8-2 advantage in shots on goal. Freshman goalkeeper Patrick West made both saves on the shots in net to record his first collegiate career shutout. The back defensive line of Mark Babcock, Ian Kelly, Mike Hegemen, Jon Funston, and Pedersen --- along with the strong play of the rest of the Wabash lineup --- kept the ball the Little Giants' half of the field for most of the contest.
Jennings had seven shots to pace the Wabash effort. Kapsalis had six attempts, while Andrew and Bob Cassady each finished with three. (Listen to Head Coach Roberto Giannini's thoughts about his team's play here. [Quicktime file])
Wabash (1-0) returns to action at Mud Hollow Field Wednesday afternoon against Millikin University at 5 p.m.
Photos - (top right) Austin Jennings takes one of his seven shots in the Little Giants' opening soccer match of the season. Jennings scored three goals in the first half of Wabash's 4-0 win.
(Bottom right) Josh Pedersen goes up for the ball with a wall of teammates ready to help.
Game Stats