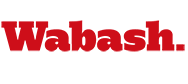 Lost and Found, Again: Every Piece has a Story
by Steve Charles

August 29, 2008

Get directions to Wabash College Fine Arts Center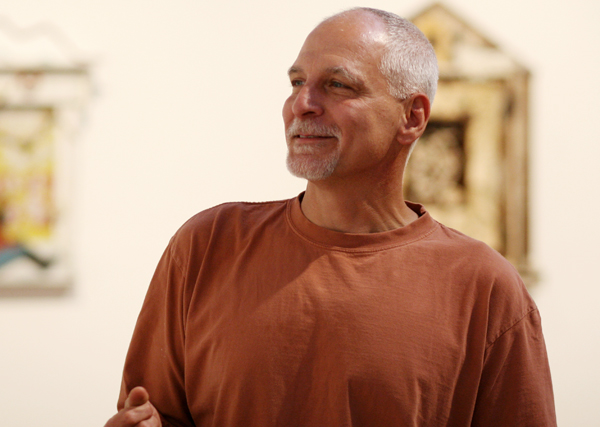 Doug Calisch doesn't want you distracted by stories of how he collects the 'found' objects in his art, but this one's too good to pass up.

Even the artist admits it.

It's the first thing he mentions as we walk among his freshly hung sculptures and photographs in the galleries of the Wabash College Fine Arts Center, where his "Lost and Found, Again" exhibit opens September 5.
We stop at a piece with dice, an old metal horse, and a jigsaw puzzle piece among its many elements.

"My son, Nolan, and I had traveled to this travesty of a border wall built by the Bush Administration in southern Arizona," Calisch explains. As they drove through the desert along the border, they investigated a series of abandoned shacks that illegal immigrants had used en route to the U.S.

"Most of the objects in this piece are from those abandoned shacks. They are the things people left behind as they were fleeing from the border patrol. They realized they were carrying too much, so they just started throwing stuff away."

Calisch's collecting that day drew the suspicion of U.S. Border Patrol agents.

"We explained what we were doing there, and we engaged them in conversation," Calisch says.

"Turns out that when they find this stuff, they'll set them up on rocks in the desert, shoot them for target practice, and take the ones they hit home as trophies."

"So you have these paramilitary guys destroying this stuff that these people were reluctantly giving up at the last minute, and only because they were being weighed down by it."

Too much for an artist to resist.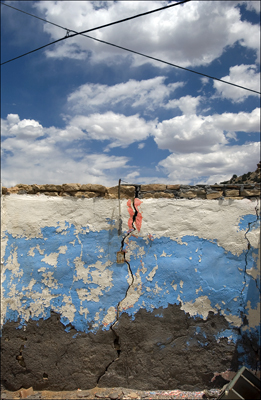 But Calisch's is not the typical artistic process. He has long approached his work with a sense of adventure and yearning for personal interaction. For the pieces in his last major show on campus six years ago, he spent hours talking with folk artists in Appalachia about their work.

"Since that experience, I have been lured to create sculpture almost exclusively from found objects," Calisch wrote for that 2002 show. "I collect, explore, and rescue materials. The work becomes a celebration of human activity—my own and acts previous to mine."

Each piece in this 2008 exhibit offers its own stories.

"I put these items together not just because they're the right color or the right texture. Each object has personal significance, each piece a story. I'm reluctant to make that story obvious because I don't want to be too heavy-handed about how I guide people through these.

"But if people build their own narratives out of these things, then I'm delighted."

A creative writing class would have a field day with Calisch's sculptures, but it's the photography and its interaction with those pieces that makes this exhibit transcendent as the azure skies of the American southwest that have caught the artist's eye and imagination. Taken in the many of the same places where the objects in the sculptures were collected, the photographs play off of them like a soaring tenor sax solo in a jazz combo. And they have plenty of space to breathe in the expansive Wabash galleries.

Wabash gallery manager, former Purdue University Galleries Assistant Director, and Art Museum of Greater Lafayette Curator Michael Atwell puts it best: "The sculptures and photographs are structured on the same artistic concepts, so they meld together within the exhibit, literally becoming a single sculpture unto itself. The visual transition is seamless."

"I was wandering around abandoned homesteads, farmsteads, railroad tracks, and places other people tend not to look, and I came to realize how beautiful these places are," Calisch says. So he began bringing his camera on his collecting excursions.


"The photos became a logical extension of the sculptural work."

The images are as varied as the items Calisch collects. Some are not what they seem from a distance: a gorgeous gradient of earth tones is actually a rusted dumpster. Calisch describes another as "a photographic collage."

"This abandoned interior I call 'Clubhouse' is a beautiful collection of stuff that I wished I could bring to my studio," he says. "Since I couldn't, I photographed it just the way I found it. You could create a narrative from it in the same way you can the sculptures."

"Here's my absolute favorite photograph," he says, walking us to an image of a swimming pool next to a freeway in morning light, a blue truck blurring by from the left. "I love the variations in blue—blue truck, blue pool, blue sky, the repeated forms.

"I was traveling with a friend of mine, and as we pulled into this motel I said, 'In the morning there's going to be a shot here.' I knew it. I didn't sleep well that night. I was up at 6 in the morning, after a half hour's time this shadow lowered into the pool and trucks went by. Even the night before in the dark I could see that shot—an epiphany."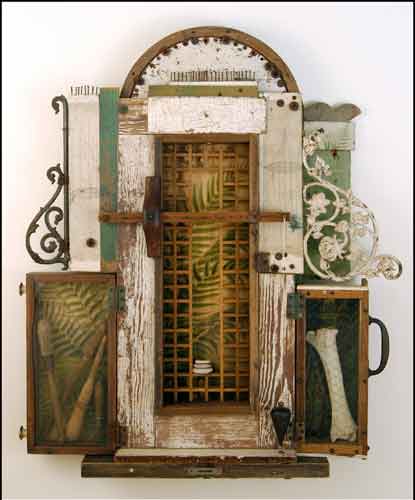 The relationship between knowledge and appreciation is a central theme of the show.

"What do you need to know about nature to really appreciate it?" Calisch asks. "What is the relationship between knowledge and appreciation, and the contrast between what we're comfortable with and the fact the this symmetry and order we try to attribute to nature isn't really there?"

But while hanging the pieces in the Wabash gallery, the artist saw another interesting convergence.

"You learn things about yourself when you do a show like this," Calisch says. "Just this morning, I realized for the first time that one of the first pieces completed here has a horse in it, and so does the last. Probably a coincidence."

That last piece is called "Mixture 79" and refers to a brand of tobacco his father smoked.
"It's a piece about generations—good breeding stock, what you pass on to your children."
Calisch completed it during the days he was helping his stepmother move out of the house she had lived in with his father, who died 15 years ago almost to the day Calisch finished that last piece.

"We had to go through my father's stuff, and I learned things I never knew about him. At the same time, my two sons were home together for the first time in 15 months, so we were having all these family conversations.

"There's no specific imagery in this piece that would necessarily lead someone to that story. In fact, I could tell you the story and still you wouldn't guess which piece it was about. I like that ambiguity."
Somehow all these things are connected. That was title of one of Calisch's first art exhibits at Wabash more than 25 years ago. His father, poet Richard Calisch, saw the show and wrote about it—a poem about generations, about finding things that remind us of those we love and the power of art to keep us in touch with them:
"You were not there.
and yet I felt the presence
of my father and my son
in that gallery."
Doug Calisch's father and sons are in this gallery, too. At midlife, his work taps deeply into that heritage while coming into its own with a new way of seeing.

The poem concludes: "Somehow all these things are connected." It never answers the question of how. The poet seems content to wonder. Richard Calisch was comfortable with such ambiguity; his son revels in such creative tension. That's where you'll find yourself when you experience Doug Calisch's work. It's a good place to be.

See if you don't walk out of the gallery telling a few stories of your own.

Lost and Found, Again runs September 5 through October 10 in the Eric Dean Gallery of the Wabash College Fine Arts Center, with an opening reception in the gallery on Friday, September 5, from 5-7 p.m.

In photos: Double Sky, by Doug Calisch; Square, Level, and Plumb by Doug Calisch