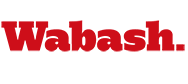 Freshmen Are Now Wabash Men
by Jim Amidon

August 23, 2008

More than 250 new students were welcomed to Wabash College on Saturday when President Pat White rang in the Class of 2012 to mark the official beginning of their lives as Wabash men.

The Pioneer Chapel was packed to capacity for the Ringing In Ceremony on a warm and humid afternoon. With the freshmen seated in the balcony and their parents, families, and friends down below, President White issued a familiar challenge.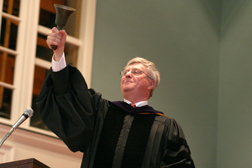 "I urge you, as I urge myself, to move ahead each day with confidence — even with courage — to learn, to grow, and to imagine new possibilities for yourself, your friends, and this, your College," said the President in his remarks.
Watch the President Ring In the Class of 2008.
The President also talked about the mood on campus in the weeks leading up to Freshman Saturday.
"Each August the pulse of life on campus quickens as we wait for this special moment, when you, the new class, infuses new life into Wabash," he said. "You bring to Wabash new hopes, new possibilities, and we who have been here longer (whether just two years, as in my case, or much, much longer) join you in your journey. As you become Wabash today, we have every hope that, through you, Wabash becomes greater than it has ever been."
Download the full audio podcast of the Ringing In Ceremony.
And according to Dean of Admissions and Financial Aid Steven J. Klein (below right), the Class of 2012 is full of richness and diversity of interests and talents.
"Being a Wabash man goes beyond academic achievement," said Dean Klein. "It requires character, competitiveness, balance, a pioneering spirit, and a drive to haven an impact on society. Judging from your accomplishments outside the classroom, this class has what it will take to meet our mission-to education men to think critically, act responsibly, lead effectively and live humanely. From athletics to music, from student government to theatre, from community service to world travel, you have much to offer Wabash and to each other."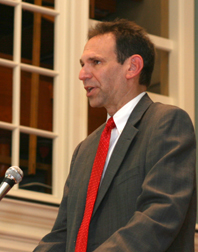 Klein reeled off some impressive statistics and revealed the true character of the class, too. Of the 258 new students, 44 are legacies, which means they had a family member attend Wabash. Of those 44, 24 have brothers who are either students or alumni.
The class boasts an average high school grade point average of 3.6 and seven had perfect SAT math scores.
In addition, 20 members of the class attended Boys State; 18 achieved the high honor as Eagle Scouts; 30 have been actors in high school and community theater; and 20 were active in speech or debate.
Each year, Dean Klein reveals the lesser-known attributes of the men in the freshman class, though he never matches the achievements to specific students. Instead, he urges the students to learn about one another by building relationships and talking with one another.
For example, the class includes a cancer survivor and two students who have performed life-saving rescues, one in water and one in a fire. One student has restored a 1979 Corvette while another is a state-ranked Motor Cross racer. A new Wabash man is an accomplished ballet dancer, while another is a self-employed detective who solves around 15 mysteries a year.
The Class of 2012 includes a mandolin player, a gold prospector, a sailing instructor, and a hockey player who was drafted by the pros, but chose to come to Wabash.
"You are a talented, enterprising, creative, brave and caring class," said Dean Klein. "Your community service commitments total thousands of hours. They include devoting time to school, church and community organizations, as well as statewide and national relief efforts. You have enriched the lives of disadvantaged children, the elderly, the sick and the poor. You have coached, mentored and tutored youth and adults in inspiring ways."
The Dean also pointed out that 10 of the 15 international students hail from China — and all from different cities. Members of the Class of 2012 come from 21 states and six foreign nations.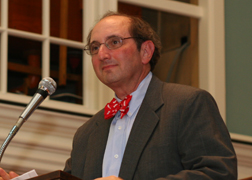 Jon Pactor (right), Wabash Class of 1971, welcomed the class on behalf of the alumni of the College. His remarks, which included several hilarious — and sometimes self-deprecating moments — reminded the freshmen that they have joined a community far greater than themselves, a brotherhood of alumni that stretches to every state in the country and around the world.
"The alumni connection to the students and the College is not a tradition," Pactor said, "it is the lifeblood of the College."
President White concluded the emotional ceremony by raising the hand bell used by Caleb Mills to call men to class as far back as the 1830s, and issuing the following challenge:
"So, Men of Wabash College, Class of 2012, if you are ready to take up this challenge — to take on the responsibility embedded in your dreams; to take on the care for your own lives and that of your brothers and all the men and women of Wabash; and to set as your goal the wise, virtuous, and generous life embodied in the Gentleman's Rule and the Wabash mission to think critically, act responsibly, lead effectively, and live humanely. Stand with pride so that I might continue the tradition begun by the first professor of Wabash College, Caleb Mills, and using his bell, ring you into the Company of Wabash Men."
Download a high resolution photo of President White Ringing In the Class of 2012 here.