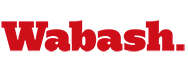 Wabash Announces 2008-2009 Visiting Artists Series and Theater Season
by Karen Handley

August 21, 2008

Get directions to Wabash College Fine Arts Center

Wabash College is pleased to announce the Visiting Artists Series and Theater events for the 2008-2009 year.

In 2008-2009, seating for Visiting Artists Series and Theater events will be by general admission, though free tickets are required for the programs.

Tickets for Fall Semester events will be available Monday, September 1, 2008. Tickets for Spring Semester events will be available Monday, January 19, 2009.

Contact the Fine Arts Center Box Office by email at boxoffice@wabash.edu or phone: 765-361-6411. Box Office hours are Monday through Friday, 8:30 a.m. to 12 noon and 1:30 to 4 p.m. The box office will open 90 minutes before curtain time for Theater and Visiting Artists events. Tickets not claimed at the Box Office 10 minutes prior to curtain will be released to the general public.

The Visiting Artists Series presents Buselli-Wallarab Jazz Orchestra
Thursday, September 11
8 p.m., Salter Concert Hall
The Buselli-Wallarab Jazz Orchestra brings together full-time professional musicians from throughout Indiana and plays everything from historical big band jazz and swing band repertoire to new jazz compositions. The late great jazz trombonist J. J. Johnson called the BWJO "a marvelous band with exceptional soloists and some of the most creative and satisfying writing I've heard."

Wabash College Theater presents The Inspector General
by Nikolai Gogol
October 8-11
8 p.m., Ball Theater
When the corrupt mayor of an unimportant Russian town discovers the Tsar has sent a government inspector to examine the local bureaucracy, the panic-stricken town officials set about wooing a mysterious stranger who has just taken residence at the inn. They offer the stranger food, drink, bribes, and the mayor's daughter to influence his report, only to fine out the supposed inspector is a penniless con artist. In this 1836 farce, Gogol holds up to ridicule everything rotten in Russia.

The Visiting Artists Series presents San Francisco Mime Troupe (CANCELLED)
Wednesday, October 22
8 p.m., Ball Theater
The San Francisco Mime Troupe, winner of three Obie Awards and the coveted Tony Award for Excellence in Regional Theater; creates socially relevant theater of the highest quality. Using comedy to entertain and provoke, these theatrical artists make you laugh at the absurdities of contemporary life while looking at some of the burning issues of our time. Performing everywhere from public parks to palaces of culture, SFMT's trademark style draws from all genres of theater, uses larger-than-life characters, and features live music.

The Visiting Artists Series presents David Porter plays Ives
Sunday, October 26
4 p.m., Salter Concert Hall
The distinguished liberal arts scholar David Porter will perform Charles Ives's Concord Sonata, one of the most challenging works in the entire piano repertoire. Equally at home lecturing on Greek tragedy and performing piano masterworks, Porter will begin the lecture-demonstration based on Ives's own Essays Before a Sonata. For nearly 40 years Porter has championed this Ives masterpiece, which at its premiere was hailed by the New York Herald Tribune as "the greatest music composed by an American."

Wabash College Theater presents Studio One-Acts
November 5-6
8 p.m., Experimental Theater
The Studio Once-Acts productions provide opportunities for theater students to showcase their skills. These projects emphasize the importance of the collaborative creative process and demonstrate the Wabash College Theater Department's belief that powerful and imaginative theater can thrive in productions of limited scale.

The Visiting Artists Series presents Opus 21
Monday, November 17
8 p.m., Salter Concert Hall
Opus 21's six accomplished musicians believe that great music is without boundaries. They challenge the notion of what constitutes acceptable repertoire for a serious music concert by presenting works from different genres, including contemporary classical, jazz, pop, world music, and works which fall in hard-to-define categories. Marked by exuberance and energy, a concert by Opus 21 is an "event"—a serious art music experience with an informal atmosphere.

The Visiting Artists Series presents Takacs String Quartet
Wednesday, February 18
8 p.m., Salter Concert Hall
One of the world's premiere string ensembles, The Takacs Quartet is known for gripping musical interpretations and innovative programming. Performing in 80 concerts a year worldwide, the quartet presents both familiar master-works and newly commissioned compositions. "The Takacs have the ability to make you believe that there's no other possible way the music should go, and the strength to overturn preconceptions that comes only with the greatest performers."—Gramophone magazine

Wabash College Theater presents The Pillowman
by Martin McDonagh
February 18-21
8 p.m., Experimental or Ball Theater
With echoes of Stoppard, Kafka, and the Brothers Grimm, The Pillowman centers on a writer in an unnamed totalitarian state who is being interrogated about the gruesome content of his short stories and there similarities to a series of child murders. The result is an urgent work of theatrical bravura and an unflinching examination of the very nature and purpose of art." The Pillowman [is] thorough starting and genuinely intimidating."—Chicago Tribune

The Visiting Artists Series presents Indiana University Baroque Orchestra—Hypermnestra
Sunday, February 22
3 p.m., Salter Concert Hall
Based on an ancient Greek myth, the opera Hypermnestra by Mozart's older friend Ignaz Holzbauer premiered in Vienna in 1741. Rediscovered and edited by Wabash Professor Lawrence Bennett, the opera spins the tale of a young woman compelled to choose between loyalty to her father and love for her future husband. Performing on period instruments (instruments restored to their original specifications, or copies of original 17th- and 18th-century instruments) the Baroque Orchestra and star singers from Indiana University will given an authentic performance of this once-lost masterpiece.

The Visiting Artists Series presents Ensemble Chaconne
Wednesday, March 25
8 p.m., Salter Concert Hall
Known for its dramatic period-instrument concerts of Renaissance and Baroque music, Ensemble Chaconne will be joined by mezzo-soprano Pamela Dellal in Measure for Measure: The Music of Shakespeare's Plays. The concert provides a rare view of the music that Shakespeare's audiences would have heard, written by composers of his day. Among the many selections are songs from As You Like It, Twelfth Night, The Winter's Tale, and Macbeth (in which Dellal portrays three witches in one song!).

Wabash College Theater presents The Importance of Being Earnest
by Oscar Wilde
April 15-18
8 p.m., Ball Theater
Set in the airless drawing rooms of turn-of-the century England, Earnest is a comedic assault upon a moralizing, prudish Victorian society. Jack and Algernon, both young gentlemen of quality, have created alternate identities for themselves in order to escape social constraints. In doing so, they set in motion a sequence of misunderstandings that illuminate the hierarchies and hypocrisies of modern life, then and now. A bouquet of cleverness, irony, and absurdity, this "trivial comedy for serious people" is as Wilde's contemporary Max Beerbohm had it, "beautiful nonsense."