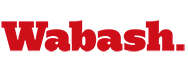 Lower '98 Developing His Ideas at Microsoft
by Gary James

August 21, 2008

Microsoft Product Manager Ben Lower '98 was not a good student. He is the first to admit it. He would have rather stayed in Japan after his junior year than return to Wabash. He wasn't motivated. Graduating with exactly the number of credits required, Lower swore he would never go to graduate school. But when Lower found himself facing the prospect of a career following other people's lead or developing ideas of his own, he revisited the subject.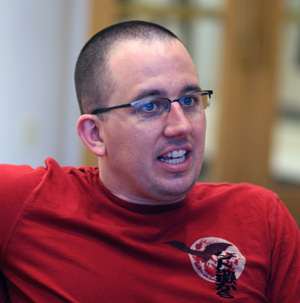 The Alexandria, Indiana, native attended Culver Military Academy, now Culver Academy for his junior and senior years of high school. He and his parents felt he was not being challenged at his local high school. Although the coursework was tough, Lower said he matured quickly at the Academy. So much so that when he arrived at Wabash, he felt he was already prepared for the next stage of life.
"There I was with kids from all over the world," Lower said of the Academy. "I think there were thirteen countries represented and literally every state. I grew up more quickly, became more responsible. It was just a good experience. Reflecting back, I felt like coming to Wabash that I had already had a lot of the life experience that a lot of my colleagues were getting. I didn't' feel like I was on the same life trajectory."
But Lower eventually found his stride. Wanting to get into the high-tech sector, Lower, an economics major, moved to Seattle the year after graduation. Despite his lack of formal training, he became a software developer for Verizon Wireless in March 2000. He said it required a lot of on-the-job training and adapting along the way. He left Verizon in 2004 to work for Call Vision, a small start-up company. In fall 2005, he enrolled in the University of Washington's Business School and received his MBA in 2007. He has been at Microsoft since July 2007.
"I got really frustrated," said Lower, referring to his time at Verizon Wireless and Call Vision. "I felt like I had lots of good ideas. My managers didn't have the same ideas, or they didn't see the same opportunities that I did. I wasn't at a place hierarchically in the company or skill wise where I could really affect change the way I wanted. So I started thinking about business school. It just made sense. I just got to a point where it was the right time for me to reinvent my career. And an MBA helped me do that."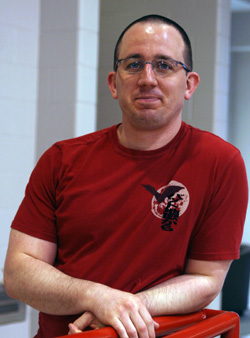 As product manager, Lower steers the strategy, pricing, features, and evolution of products. Lower's own product is called the Courseware Library. It's a website that sells digital courseware. The course materials are used by Microsoft partners to train students in the classroom. Lower actually created the product in 2006 when he was an intern at Microsoft. The company liked his product, and it launched in September 2007. Now that he has returned to Microsoft, Lower has devoted much of his time to making sure his product gets the attention and resources it needs to be successful.
Lower's experience in different settings and working with different types of people has helped him in bringing different parts of the company together to advance products. Amid slow progress the first year, Lower went to the General Manager of Microsoft Learning and presented to him a plan to invest more in the product. He laid out where he thought the strengths and weaknesses of moving forward were and how much money and people needed were needed to solve possible problems. Lower's project received the support he wanted, and it was then Lower's turn to make it happen.
"We have a sales marketing team," Lower said. "We have an operations team. We have an engineering team. I work directly with each of those organizations to sell them on the opportunity and also get their buy in and support because we have to get resources and people from their teams to do the work. And then once they buy off it's a matter of meeting with these people in these teams on a regular basis and keeping them motivated. So it's just a continuous process."
Lower said Wabash helped him learn to adapt to different situations.
"I think a liberal arts education is a good way to go," he said. "You have a better chance to be well rounded, well versed in different things. You get a different perspective in religion and culture and all those things. And I think it makes you more well- rounded, more open to different things going on in the world."
Lower lives with his wife Sarah, a nurse practitioner, and their two dogs and birds.