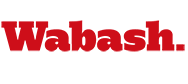 Four Home Football Games Broadcast Live on the Internet
by Brent Harris

August 5, 2008

All four of the 2008 Wabash College home football games leading up to the 115th Monon Bell Classic will be broadcast over the Internet. All five Wabash regular season home football games will be available either on the Internet or through satellite television.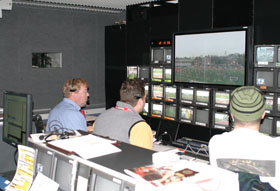 Hometown Television will provide live internet coverage of the first four home games in 2008 on a specially designed website titled LittleGiantsTV.
The games will be also available on the Teamline web site. Hometown Television will also air the games on a delayed basis on cable television stations throughout the state of Indiana.
"Fans unable to attend games at Hollett Little Giant Stadium on Saturday afternoons will be able to watch all the excitement of Wabash football," Director of Athletics Tom Bambrey said. "We have enjoyed great success with the annual Monon Bell telecasts and look forward to presenting all of our 2008 home games to alumni, fans, and supporters everywhere."
HDNet will carry the 115th Monon Bell Classic, providing the telecast to a live, nationwide audience. Mark Cuban's network first covered the annual rivalry game between Wabash and DePauw in 2003. HDNet returned to carry the 2006 and 2007 games, and will also carry the 2008 and 2009 games.
Wabash football can also be heard on the Internet and over the air thanks to the College's student-run radio station, WNDY-FM (91.3 FM). Tom Norman '09 and Ben Humphreys '10 will provide the commentary this season. Mark Maxwell will be back for another year, working as an analyst for all home games.
The Little Giants, ranked 11th in the preseason D3football.com poll, open the 2008 campaign at Denison on September 13. Wabash's first home game is September 20 against the University of Chicago.
Photo - Inside the HDNet production truck at the start of the 113th Monon Bell Classic. HDNet will once again broadcast the Monon Bell game to a national television audience. All five Wabash regular season home games will be available either through the Internet or satellite television in 2008.