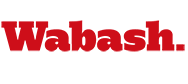 "My Town" Celebrates the Power of Small Places
by Steve Charles

July 23, 2008

"Whether they come from big cities or small, from far away or near, Wabash men are shaped by Wabash and Crawfordsville—this little college in this little town," writes Wabash College President Patrick White in "My Town," the latest issue of Wabash Magazine. This edition of the College's journal celebrates small towns and "the power of coming to know the world face-to-face in small places."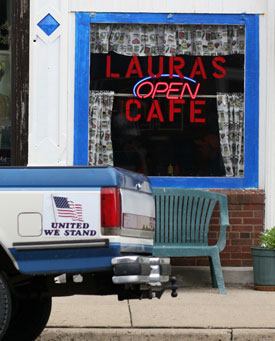 "To worry about the fate of small places in the world is not mere nostalgia or romanticism," White adds. "It reveals an understanding of what the human spirit needs to thrive. Whether our village is a small town, or a neighborhood in a huge city, or a small college with an international student body, the human imagination thrives on the local, the up-close, the personal."
And, as the several articles in "My Town" illustrate, that ability to relate to the world one person at a time, as nurtured in these small communities, enables Wabash students and alumni to feel at home in the world and to make a difference wherever they live.
"They learn to walk the campus as the place they own and are responsible for, and to travel out into the town of Crawfordsville and beyond with eyes made ready to see the world as a knowable space—a place that has a claim on their attention, their loyalty, and their affections," White says.
"My Town" features articles and photo essays by Wabash alumni, students, faculty, and staff celebrating small places, from Wabash junior Gary James' essay about his friendships and favorite spots in Crawfordsville, to alumnus Tom Florsheim's photographs of small town India, Italy, and New Mexico in "The World on a Human Scale," to Professor Steve Webb's essay on Indiana basketball in "Gyms and the Making of Small-Town America. Student photographs and writing from recent immersion and service trips throughout the country and around the world reveal that living in a close-knit learning community at Wabash translates into more thoughtful and meaningful interaction the places they travel.
As recently graduated Wabash senior Homer Twigg writes of re-roofing a house in New Orleans during a mission trip last spring with Wabash students and members of a Crawfordsville church: "Standing on the roof today gave me a new perspective of the city. Today I saw lawns being mowed, people riding bikes, flowers being planted, and old women standing outside just talking to one another. The neighborhood was coming back. You can't get the materials for that at Home Depot, and no federal loan can bring it back."
As the print edition of the magazine arrives on campus and in alumni, student, and faculty and staff mailboxes, Wabash Online Magazine offers those stories and more in photo, video, and audio presentations.
Wabash Online Magazine designer and editor Kim Johnson also has created a space for readers to share their own thought on small town living and creating community.