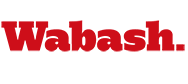 Coming Home
by Kim Johnson

July 18, 2008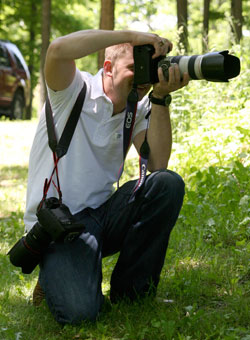 Adam Cole '98 grew up near Vevay, Indiana and enjoys small town life. In fact, it's part of what drew him to Wabash College.
"I wanted to go far enough from home to get the experience of being away yet I didn't want to live in Indianapolis," Cole said. "I thought Crawfordsville was more of a fit for me."
Cole also felt similarities between the College and small towns. In a large city it is easy to maintain anonymity. "You can get by without going to the blood drive, but the Wabash community is just like a small town – you have to pull your weight there. When you're there you are involved in things or you are not really a member," Cole said. "I think having to be involved made it what it was."
After graduating with a degree in psychology, Cole lived in Lafayette, Indiana, and Louisville, Kentucky, where he learned the art of portrait photography and started his own wedding photography business, Three Spot Images.
Adam, his wife Amanda, and their two daughters have recently returned to seven acres in the country near Vevay where he is expanding his business to include more portrait photography. "I hear from a lot of people, 'why did you move back here?' They don't really see the benefit because we moved from an area that has 1.5 million people to an area that has 1,500 people in town."
"I really loved living in Louisville, but there wasn't that sense of community that I grew up with. I wanted to come back here and bring this business back. I want to see more educated people and more businesses move back into the area. I'd like to see it be revitalized. I feel a sense of duty to come back and help things along."
"With the prices of fuel and things like that going up, we're going to have to start to see a reliance on things in our own areas because it's going to be scary in another five years. There needs to be a realignment. Things that once were are going to have to come back. We are going to have to look to our small towns again."