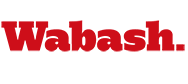 Rokita '92: More Civic Engagement Needed
by Andy Bruner, The Paper of Montgomery County

July 18, 2008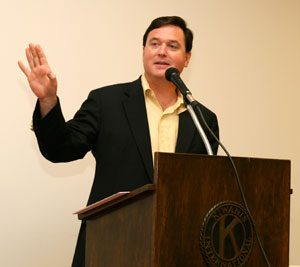 Indiana Secretary of State Todd Rokita keeps an Iraqi election ballot in his office.
Rokita, a Wabash College alumnus, was the featured speaker Thursday at the Crawfordsville Kiwanis Club's regular meeting at the Crawfordsville District Public Library.
Rokita's topic was "Keeping your government in your hands through civic engagement." He presented an overview of Indiana's model election reforms, the programs in place to encourage Hoosiers to take part in elections and why it's important for them to take "an ownership role in governing their state."
Rokita told the group that his Iraqi ballot is from the country's second election, with 105 items on it - not candidates for office but rather, party choices. Voters were deciding which political parties should be given legitimacy. Rokita discussed how Iraqi women would stand in line all day to vote - serving as targets, literally, for terrorists.
"There has yet to be an election in Iraq that gets less than 70 percent voter turnout - even though it rains bullets and bombs over there. Here, when it rains, we lose 50 percent," he said.
Rokita was discussing the fact that, despite a number of election reforms over the years, voter turnout has not gone up. The reason, he said, is "a relative lack of civic engagement."
He discussed a number of ways to try to change that, including the Donate for Democracy program, which encourages poll workers to donate their county-issued stipends to the charity or organization of their choice. The contribution may be claimed as a tax deduction.
Rokita also discussed a program that allows teens to serve as poll workers on Election Day.
"I can't imagine a better civic engagement than that. How can they possibly work the polls all day and then not come back to vote at a later date, when the time comes?" he said.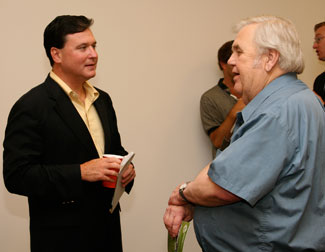 Rokita's presentation was well received by many of those in attendance, including retired Wabash College professor Joe O'Rourke - who was Rokita's speech professor during his undergraduate years at Wabash.
"He handles himself extraordinarily well, particularly during that question-and-answer session where he comes back and gives us specifics. That in itself is rather unusual," he said.
O'Rourke joked that he was giving his former student a grade of B for his speech Thursday - but then Rokita said shortly afterwards that O'Rourke had agreed to raise it to an A.
Kiwanis Club President David Johnson said Rokita's message about civic engagement was clearly an important one.
"We need to be doing more than just voting. We also need to be taking steps to help ensure that the voting process takes place. That's the 'take home' message that I got out of it," he said.
photo above left: Rokita discusses civic engagement with the Crawfordsville Kiwanis Club.
photo above right: Joe O'Rourke offers Rokita a critique on his presentation.