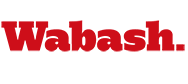 Tasting the Magic of Small Town Indiana
by Robert Van Kirk '07

July 15, 2008

Editor's Note: An article about Fletcher Boyd 'kk and his acclaimed restaurant, Fletcher's of Atlanta, was to be our lead feature for the "My Town" issue, complete with a review by Wabash Cooking Club founder Robert Van Kirk '07. But when Fletcher closed the restaurant in December to spend more time with his family and pursue a teaching career, much of our story became outdated and was no longer a good fit for that issue of the magazine.

But Robert Van Kirk's description of an evening sampling Fletcher's incredible cooking captures well the man's culinary talents, eclectic tastes, and the hospitality that made the restaurant an unexpected delight and favorite for so many. We'll catch up with Fletcher in an future issue. For now, we pay tribute to his past—and oh so tasty—endeavors.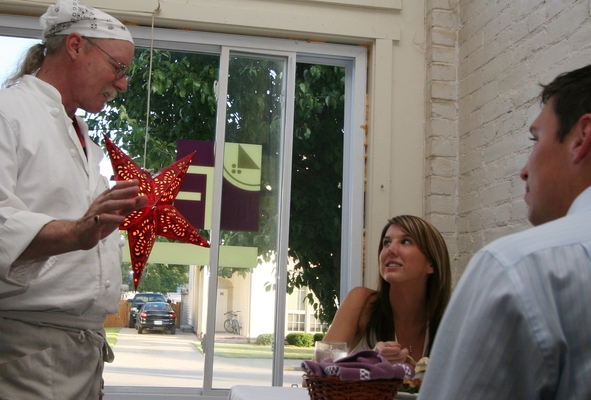 Steve Charles approached me after a Wabash Cooking Club presentation in the Fall of 2006 and planted the idea of traveling to Fletcher Boyd's gourmet restaurant in Atlanta, IN, and writing this piece for Wabash Magazine. At first I was hesitant—I'm not much of a writer—but simultaneously flattered by the offer. After Fletcher presented a few Asian-infused dishes at a Wabash Cooking Club event this spring, I had to visit Fletcher's of Atlanta.

The trip began with an hour-long train ride—run by the Indiana Transportation Museum—from Fishers to Atlanta. My girlfriend, Jamie, and I enjoyed hors d' oeuvres, cocktails, and the scenery from the city to the picturesque Indiana countryside. Knowledgeable conductors added historical context to the trip, noting the age of the tracks, cars and routes we traveled.

We arrived at Fletcher's restaurant and the mystique and romantic feel of the evening continued. The building rests downtown in one of the town's original, main street brick buildings. Fletcher maintained its high ceilings and decorated the interior with numerous antiques. Soft jazz and contemporary music floated in the background as Jamie and I browsed the menu. The service remained outstanding throughout the evening. Several servers bounced from table to table offering to fill water glasses and bring other beverages to satisfy growing thirsts, including a very extensive wine list.

Describing the menu as "eclectic" does not fully capture the diversity of the dishes offered. Our menu was condensed—as part of our Hamiltonian Evening Express package—and I still deliberated my five dinner options for several minutes. I finally decided to taste the Hunan barbeque Lamb: "Lamb loin chops and lamb bratwurst in our own oriental bbq sauce." Jamie flirted with the Filet Maisonette but chose the Chicken Saltimbocca instead. We both chose the Strawberry-Vidalia Onion Salad.

I cannot adequately describe the aromas, flavors, originality or presentation—I can only encourage each reader to taste Fletcher's creations—instead, I will offer my interpretation of Fletcher's culinary worldview. He consciously utilizes fresh and local ingredients more than any other establishment I have ever encountered. Fletcher drives to local gardens and farms to handpick herbs and produce. He purchases his meats from Hamilton County farmers, including an alternating menu option offering game dishes such as grouse and elk. Fletcher even travels to Brown County to purchase the syrup for one of his appetizer's marinades. Beyond the ingredient list and grocery shopping, Fletcher creates everything on the menu…absolutely everything. Fresh sourdough bread and homemade butter start dinner off but just listen to this list of salad dressings: "Lemon-mint French, Oriental, Balsamic Vinegar Italian, Green Goddess, or Blue Cheese & Port Wine." I am fairly confident that Gordon's Food Services, Sysco Foods and Kraft fail to offer such flavorful gourmet options. This passion for fresh and unique dishes distinguishes Fletcher's restaurant from many of the other upper echelon culinary establishments.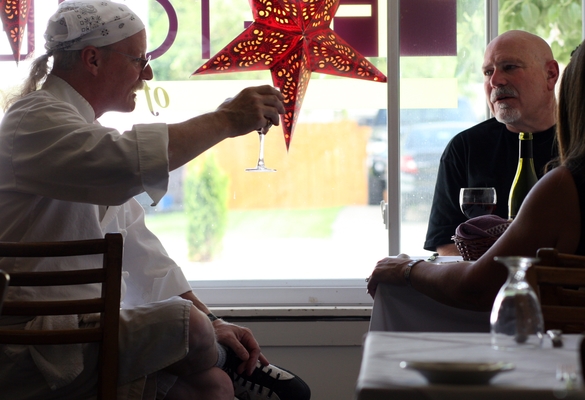 After an extraordinary dinner, our evening concluded with two splendid deserts. Fletcher topped the Maple Glazed Pecan Praline Sundae—homemade ice cream, of course—with candied pecans and a delicious caramel sauce. The menu described our second dessert, the Russian Cream, as a "sort of liquid cheesecake in a champagne flute with berries." Both deserts were rich and decadent but not excessively heavy, the perfect conclusion to dinner. Fletcher augmented the quaint, hometown aura by personally addressing each table after dinner. All guests feel welcomed as though they are attending a dinner party at Fletcher's home. Fletcher even offers magic shows occasionally including costumes. (I perused images Hendrix and Julia Childs impersonations).

Jamie and I left the restaurant thoroughly impressed and satisfied. As we boarded the train for our departure, Bob—one of the conductors—asked us about our dinner. We happily recounted our pleasant evening and he quickly commented, "I've yet to meet an unsatisfied customer of Fletcher's."