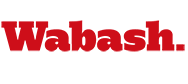 Olympians Bring Championship Lessons to Wrestling Camp
by Matt Wilson
The Journal Review

June 27, 2008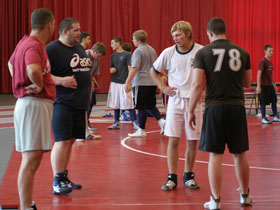 Chaz Brock heard how exciting last year's Wabash College Team Wrestling Camp was. The Crawfordsville incoming senior was unable to attend then, though, because he was at Team Indiana camp. He decided to make his first appearance at Knowling Fieldhouse for this year's camp. What Brock and a group of 170 other wrestlers got was some Olympic-style training.
Continuing the tradition of having Olympians come to his camp, Wabash coach Brian Anderson had two former Olympians — Rulon Gardner and Brandon Slay — help his camp Thursday. Slay and Gardner both competed in the 2000 Olympics in Sydney. Gardner competed in Greco Roman and was a 2000 Olympic gold medalist and 2004 bronze medalist. Slay competed in freestyle and was a 2000 gold medalist.
Anderson started working on getting Gardner and Slay to come to the camp in October 2007. He contacted Slay through e-mail and Gardner through his agent. Anderson is in his third year having the camp, and has had two Olympians come each year.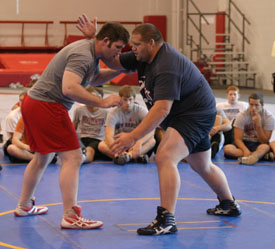 Brock spent Thursday morning learning from Gardner, who defeated Alexander Karelin in the 2000 Summer Olympics. Karelin had been undefeated for 13 years and hadn't given up a pin in six years. Brock wrestled at 215 pounds last season.
"That was just great, he helped me learn a lot more," Brock said. "He taught me a little bit of everything. He taught me how to get stronger and just improved me all around. Some of the other people in my group were little people and he's bigger, so he was able to help me out more than he could help some of the other people. He got into the more technical's of higher classes."
The team camp at Wabash was the first summer camp Brock attended. In two weeks, he will attend the Team Indiana camp in Rensselaer.
Brock and Crawfordsville wrestlers Dylan McBride, John Rogers, Justin Bryant, Jared Allgood, Tyler Light, Colby Light, Steven Wilson and Ryan Bean were at the week -long camp. Western Boone coach Rick Overfield also brought down seven of his wrestlers, including high schoolers Jake McNabb, Drew Spriggs, Nick Battie and Brandon Davis. Also among Gardner's group Thursday morning was Cameron Douglas, 10, who attends Hoover Elementary School. Douglas said Gardner taught him better stances and the best ways to make moves on opponents. He had heard about Gardner from his parents and from watching him in the Olympics.
"It was a great experience to have him teach us good moves," Douglas said. "It was a great advantage to have him teach us." Douglas said he has plans on returning to the camp next season.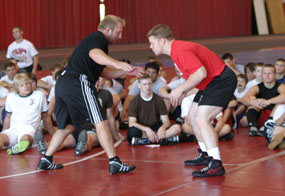 Western Boone wrestlers were instructed by Slay Thursday morning. Slay lost to Germany's Alexander Liepold in the finals of the 2000 Olympics. Liepold later tested positive for steroids, so the gold medal was awarded to Slay.
Slay said he goes back to the basics while instructing various camps. He teaches what he feels like are the five main keys to wrestling — keeping your head up, back straight, hips in, staying off your knees, and keeping pressure on your opponent.
"I'm really passionate about teaching the basics," Slay said. "Sometimes young men get in their brains that they need to use all these tricks and cool moves, and that is not what is going to win you state titles or national titles, they just need strong, solid basic skills. I have had high school coaches thank me for reiterating what they have been teaching."
Gardner came in with a little different philosophy than Slay.
"What the one thing I'm trying to show them is something they have never seen before and will stick with them for the rest of their lives," Gardner said. "They will see things here that nobody has showed them and they are about to come up and talk about it."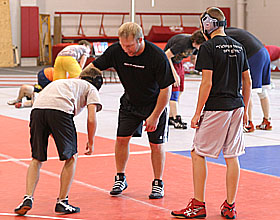 Since winning the gold medals, both Slay, 32, and Gardner, 36, have retired from wrestling. Gardner has recently opened his own health club in his hometown of Salt Lake City, Utah where he hopes to start teaching wrestling. He also spends around 250 days a year going around to various camps and giving motivational speeches to younger wrestlers.
Gardner, who will do the wrestling telecasts for the 2008 Olympics in Beijing, said wrestling has made an impact on his life. He grew up with a reading comprehension disorder and said if he would be in school today, he would be diagnosed with attention deficit disorder.
"Wrestling really helped me with my focus," Gardner said. "Because you have to know where you are at all times on the mat."
Slay is the director of young adult community at Watermark Community Church in his hometown of Dallas.
Matt Wilson is the assistant sports editor at The Journal Review.
Photos - (top right) Olympic gold medalist Rulon Gardner and Crawfordsville High School wrestling coach and former Wabash wrestler Chris Ervin '91 discuss technique with two participants during the Brian Anderson Wrestling Camp.
(Middle left) Gardner uses Wabash senior Rob Arnett to show the campers a new move. Arnett served as a camp counselor during the work and had the opportunity to go one-on-one with the former Olympian.
(Middle right) Brandon Slay gets ready to demonstrate a takedown on Little Giant wrestler Cody Johnson. The Wabash junior worked with Slay throughout the morning and afternoon sessions on Thursday.
(Bottom left) Slay works on the basics with two of the campers.