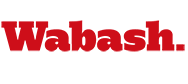 Crispus Attucks: Against All Odds
June 27, 2008

Greg Slisz '10 - My presentation, titled Against All Odds: The 1955 Crispus Attucks High School Basketball Team, chronicles the development of Crispus Attucks High School Basketball in the early 1950s and ultimately culminating in consecutive state championships in 1955 and 1956.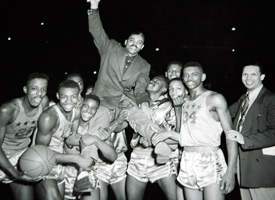 In 1955, Crispus Attucks became the first all-black team in the nation to win a state championship in any sport, as well as the first team from Indianapolis to win the state basketball championship. The team had to overcome a great deal of prejudice and the harsh segregation of Indianapolis en route to a state championship in both 1955 and 1956. However, the great success of Crispus Attucks basketball actually served as a catalyst to begin to break down stereotypes and animosity in a racially divided city.
The video looks at these effects and especially focuses on two of the primary characters in Crispus Attucks' state title runs, coach Ray Crowe and future NBA MVP Oscar Robertson. y using interview footage from sources such as former Attucks manager Cliff Robinson, former Attucks basketball player Sam Milton, former Milan High School basketball player Bobby Plump, and Indiana Basketball Hall of Fame curator Roger Dickinson, the movie reflects on the attitudes and thoughts of the time.
Authentic pictures, newspaper clippings, and Crispus Attucks yearbook pictures help to take the audience back to a time when high school basketball was the main attraction in Indiana, and Crispus Attucks basketball was the talk of the town.

Against All Odds serves as a testament to Crispus Attucks basketball's amazing accomplishments: In 1955 they became the first all-black team in the nation to win a high school state championship and the first team from Indianapolis to win a Indiana basketball championship, and then in 1956 they became the first team in Indiana high school basketball history to finish undefeated.
See Slisz's movie here, here, and here.