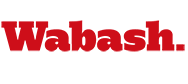 Wabash Faculty Consider Scholarship of Teaching
by Howard W. Hewitt

June 5, 2008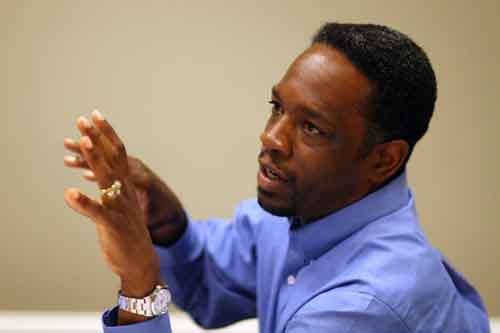 Wabash faculty have begun an introspective and scholarly look at their teaching this week with a Summer Scholarship of Teaching and Learning (SoTL) workshop.
(See a photo album here.)
Eight Wabash professors along with three Wabash facilitators will spend more than three days looking at their teaching as a scholarly pursuit.
"We all spend a great deal of time thinking about our teaching, devising our teaching, trying to understand if its having an impact on student learning," Professor of Teacher Education Deborah Butler said. "But we do it in the quiet of our classroom and offices, but we don't have a way of learning from each other as a profession."
Butler, Religion Professor David Blix, and Professor of English Warren Rosenberg are coordinators for the Wabash workshop. They will be joined by a research scholar from DePauw, Bruce Serlin in Biology. The workshop facilitator is a Carnegie Scholar from IU-Bloomington, Whitney Schlegel, Director of Human Biology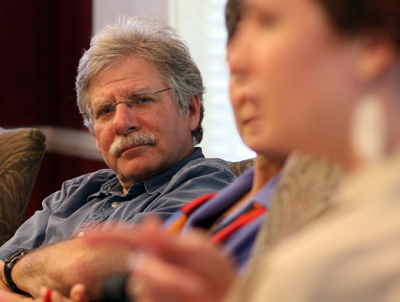 "The primary intention of the Scholarship of Teaching and Learning is to improve our own classroom teaching, and those effects should be felt immediately in the fall when teaching and learning begin again," Rosenberg said. "The more intentional we are about what we do in the classroom, and the more aware we are of what our colleagues, in our field and others, have done that has worked, the better we will be as teachers and the more our students will benefit."
The workshop will be modeled similar to workshops run by the Carnegie Foundation for the Advancement of Teaching (CASTL). Wabash and the Center of Inquiry in the Liberal Arts has had an ongoing relationship with CASTL since 2003.
"Carnegie was seeking to explore what they called the "signature pedagogies" of the liberal arts, and the Center of Inquiry helped to fund and select a cohort of Carnegie CASTL Scholars (Carnegie Academy for the Scholarship of Teaching and Learning) to study the seminar as one of those signature pedagogies," Rosenberg explained. "Mike Axtel of our math department was selected as one of the scholars, and J.D. Phillips, David Timmerman, Charlie Blaich, and I worked with the group at meetings held at Stanford and on our campus.
"The result was a collection of in-depth studies of the seminar from a variety of perspectives and fields, including—improving student ability to ask questions of each other, using technology to improve discussion in a Shakespeare class, increasing understanding through conversation in a biology class."
The participants will bring questions to the seminar to start research into various facets of teaching and student learning.
"Most people do this so they can really advance their own teaching and be more effective for their own students," Butler said. "To meet the demands of this being a form of scholarship, you have to go that next step in some way. Otherwise, you're doing scholarly teaching, being reflective, thinking strategically, and that's wonderful - but it still wouldn't be the scholarship of teaching and learning unless you're part of that broader conversation about pedagogy and what you're doing in a classroom so people can learn from you."
The Wabash effort has been ongoing, Rosenberg noted. Professor of Rhetoric David Timmerman joined Rosenberg and Butler as an ad-hoc group of faculty interested in SoTL and sharing their research with colleagues.
"All Wabash faculty members are committed to teaching excellence, and an important way to maintain that excellence is to engage in scholarly reflection about teaching by soliciting student feedback and by reading about the latest content and pedagogical research being done in our respective fields," Rosenberg explained. "But the Scholarship of Teaching and Learning seeks to go a step further by making the learning experience itself the object of research. Such research is based on and becomes a part of a growing body of scholarship that explores common pedagogical issues."
Wabash and the Center will host a national workshop March 6-8, 2009 titled "Innovations in the Scholarship of Teaching and Learning in Liberal Arts Colleges."
Wabash professor participating this week include: Crystal Benedicks (English), David Blix (Philosophy and Religion and a former CASTL scholar), Preston Bost (Psychology), Tim Lake (English and Black Studies), Michele Pittard (education), Lon Porter (chemistry), Bob Royalty (Philosophy and Religion), Rick Warner (history), will join Butler and Rosenberg.
"The name of the game is Wabash students and what they're learning from us," Butler summarized. "How can we study the impact of what we do as teachers?"

In photos: (top right) Assistant Professor of English Tim Lake; (left) Professor of English Warren Rosenberg