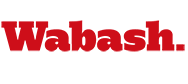 First Trivia Competition Provides Facts, Fun
by Brent Harris

May 9, 2008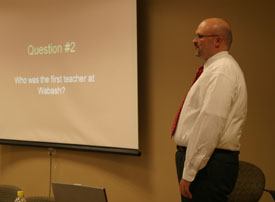 What was the originally name of Wabash College when its charter was issued by the Indiana General Assembly on January 15, 1834?
What Wabash alumnus has played in four Super Bowls?
What team did Wabash defeat to win its first basketball national championship, and what year did the game take place?
If you knew the answers to these questions are: Wabash Manual Labor College and Teachers' Seminary, Pete Metzelaars, and Yale in 1906 (24 to 8); then you would be ready to match wits with the teams that participated in the first Wabash Trivia Competition.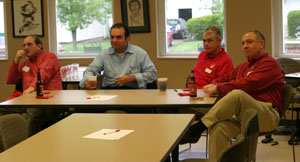 Two teams battled to show their knowledge of Wabash, various subjects taught at the school, and general world events in a competition conducted by quizmaster and National Association of Wabash Men President Jim Dimos '83. A team of alumni --- (photo to left from left to right) Jon Pactor '71, Khurram Tahir '01, Dick Glover '65, and Mark Dewart '74 --- took on a faculty team comprised of Paul Vasquez, Frank Howland, and Jim and Patience Barnes. A third team made up of Jay Fischer '66, Tom Runge '71, Tim Lake, and Brent Harris joined in the second round.
Questions ranged from history regarding the College to famous alumni and and events. Also included were questions from the three major divisions --- sciences and mathematics, humanities and fine arts, and social sciences. Participants were also asked to recognize the photos of ten world leaders, ten candidates in the 2008 Presidential campaign, and ten cities throughout the world.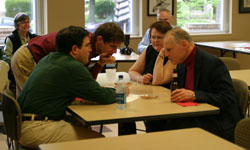 Good-natured barbs were traded between each group as Dimos grilled the teams with a total of nine rounds, with each round consisting of ten questions. The alumni group squeaked out a narrow victory over the faculty in the final standings.
"I hope this will become an annual event," Dimos said after the final scores were announced.
So brush up on your Wabash trivia and get ready to compete during next year's graduation weekend.
Photos - (top right) Dimos asks a question in one of the early rounds of the quiz.
(Middle left) Pactor, Tahir, Glover, and Dewart won the first trivia competition.
(Bottom right) Faculty members Vasquez, Howland, and the Barnes work together to get another correct answer.