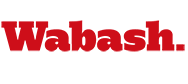 Hughes Honored for Excellence
April 25, 2008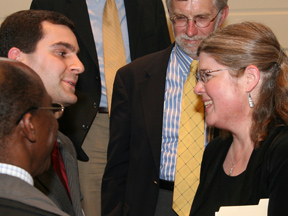 Associate Professor of Philosophy Cheryl Hughes has been named the winner of the McLain-McTurnan-Arnold Award for Excellence in Teaching at Wabash College.
The award, established in 1964, honors in a special way a member of the Wabash faculty for exemplary teaching. Gary Phillips, Dean of the College at Wabash, presented the honor at the annual Awards Chapel convocation Thursday night.
In presenting the award, Dean Phillips summarized the comments by Professor Hughes' faculty colleagues.
"They speak of a person who possesses a quiet authority and dignity; integrity; and who is deliberate and serious," said Phillips. "[She is] a demonstrated leader who focuses on pedagogical issues; a mediating and moderating influence, intellectually astute, careful and precise; fair-minded and honest; organized and enthusiastic; a knowledgeable musician; of humorous temperament, never superficial, deeply reflective, one who is not only a good teacher for students but also for faculty."
Hughes came to Wabash in 1992 having earned her bachelor's degree from Portland State University and her Ph.D. in philosophy from the University of Massachusetts. She is currently the chair of the Philosophy and Religion Department at Wabash.
"Cheryl is also a deep well of moral and material support to our minority students be they African-American, Hispanic, gay, international," added Phillips. "She has been a cook for students when stranded in Crawfordsville over winter recess; a leader on the Multicultural Concerns Committee; and someone who has conducted an independent study on the back porch."
Professor Hughes' area of expertise is 19th and 20th century continental philosophy, ethics, social and political philosophy, and feminist philosophy. She is a talented musician who performs with Wabash's chamber orchestra, and her hobbies include cooking and gardening.