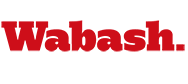 Pat and Chris White Visit Columbus, IN
by Michael Warren

April 25, 2008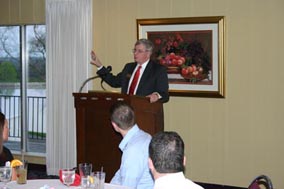 A beautiful room overlooking the lake at Harrison Lake Country Club in Columbus, IN was the setting for a recent regional association dinner event. President and Mrs. White joined alumni, parents, and other guests from the Columbus area on a gorgeous spring evening for dinner and Wabash fellowship.
Sherm Franz '59 welcomed the assembled group following a short reception and then after dinner introduced President White to the crowd. Dr. White gave a quick update of current campus activities and then discussed the initiatives surrounding the College's current strategic plan with stories from his conversations with students, faculty, and alumni. Dr. White finished reiterating to those present the important role they play in the life of Wabash and thanked them for their past, present, and future support in all areas.
Special thanks to Sherm for making the arrangements and for serving as our host for the evening. Click here for photos from the evening.