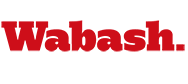 Schroeder '99 Learning Family Plastics Business
by Howard W. Hewitt

April 15, 2008

EVANSVILLE, Ind. — It would be easy to assume Scott Schroeder '99 would follow his father and grandfather to Wabash College then into the family plastics business. But the family encouraged Scott to find his own path while making it known the opportunity was available to join the family business if he wished.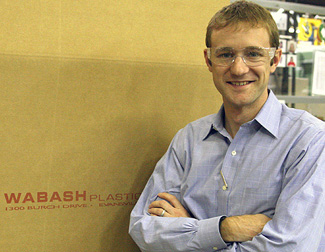 John H. Schroeder '42 and John C. Schroeder '69, Scott's grandfather and father, never pushed Wabash College or Wabash Plastics.
"I had to do a bit of a sales job for them to let me pursue it," Scott said of his decision to attend Wabash. "Both my father and my grandfather have always wanted me to define my own path, and not allow them in any way, shape, or form to influence that.  So when it came time to look at schools, a big part of it was my desire to continue to play soccer in college.
"And so as I looked in the academic side of things, the more research I did the more I started leaning toward a liberal arts college. My dad couldn't help but talk highly of Wabash, he's so involved with it, and I grew up with it too. I went to homecoming weekends when I was a kid and I had so many Wabash sweatshirts and T-shirts. I think my first bib said Wabash College on it, so it was a comfortable place."
Scott was able to play soccer and run track while majoring in economics. He didn't always enjoy the economics classes; he liked history and religion more, but knew if he ever returned to the family business the economics would serve him well.
And he didn't immediately return to the family-run business. He took jobs in a consulting firm and then banking in Cincinnati. Still, the door was always open. He decided to pursue an MBA at Indiana and return home.
"Much like the decision to attend Wabash, going home wasn't pushed on me at all," Schroeder said. "My dad was always very up front on how difficult it is and how big a challenge it is, and made that perfectly clear. But working at Wabash Plastics was such a unique opportunity that it was hard to pass up. Plus I have such a good relationship with my dad and with my uncle and with my grandfather that it really made it an easier decision and then there's such a great history here."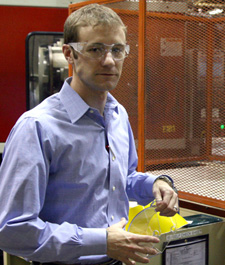 The family business is really five businesses with approximately 1,000 employees. Wabash Plastics, named after the College, makes custom injected molding pieces. One of its primary customers is Evansville's Whirlpool Company. They manufacture plastic parts like handles and interior doors for Whirlpool appliances.
But that's just one part of the family plastics business.
Grandfather John H. Schroeder graduated from Wabash and earned an MBA at Harvard. He started Crescent Plastics in 1942. The PVC pipe business was later split off and called Crestline — now the biggest of all the operations and a major player nationally in the business. The family business is the oldest pipe producer in the United States and owns a top five position in market share.
Scott's father John C. Schroeder earned an MBA at Indiana University after Wabash, a path Scott mirrored with the completion of his advanced degree just last year.
All three now work in Evansville with three of their plants in the immediate area. Scott figures there are more than 500 wage earners near Evansville working for the company.
Scott's previous employment involved project management and project analysis. "I'm not a technical person and I obviously don't have a technical background," he said. "But if Wabash teaches you one thing it's how to manage your time. Most of my daily work involves following partners and senior managers around on huge projects and helping them manage the projects."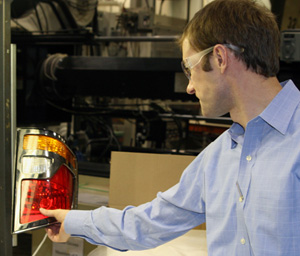 He has barely a year on the job and is learning all phases. But he's involved himself in a number of projects including process work to make the Wabash Plastics plant more efficient. He's assisting with a "lean implementation" program to help the plant become more efficient in production, inventory, and the construction of the plastic parts.
The company has beautiful offices in a modern building on Evansville's eastside, but Scott loves visiting the plant. "I hate sitting in the office over there where we don't make anything. It's just sales and accounting. I like being out here (at the plant). This is where you get dirty and understand what we do and how we do it."
And there is lot of understanding necessary when becoming the third generation of a family business.
"The expectations are really different from a performance standpoint," Scott said of working for his family. "They really push me beyond any levels I've ever been pushed in any other job just because they expect so much more. From a personal standpoint, in every other job I've had I've been an employee at someone else's company. Now I'm an employee at our company. There is a sense of pride, and there's also a real sense of meaning and ownership with everything that I do now.
"It's at times an overwhelming sense of responsibility that scares the hell out of me. My grandfather still comes in from time to time. My dad and my uncle, Richard, would love to retire some time. So there's a real sense of commitment to the people here and to continue to provide good jobs, and then also the stress of just maintaining the organizations. There are definitely times where it's overwhelming, but that's the beauty of having 10, 15 years before they do think about retiring and having that time to ease into it and really understand the business."
The challenge leaves little personal time, but Scott carves out plenty for his wife and baby daughter. He also keeps up the running from his days at Wabash, working out with friends most mornings. He even plans to run a couple of marathons in the not too distant future.