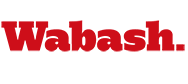 Brass & Woodwind Ensembles to Present Concert April 17
by Karen Handley

April 11, 2008

Get directions to Wabash College Fine Arts Center

The Wabash College Brass and Woodwind Ensembles will present a spring concert at 8 p.m., Thursday, April 17, in Salter Concert Hall in the Fine Arts Center.

Under the direction of Peter Hulen, Assistant Professor of Music, the concert will open with the powerful "Fanfare for the Common Man" by Aaron Copland. The full program will be very eclectic and interesting, featuring a humorous piece with silly poetry readings, serious classical pieces, a familiar television show theme, an amazing piece with brass at the front and back of the hall, and even a touch of the Beatles.

Admission to the concert is free. The public is cordially invited.