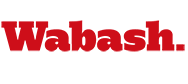 A Flea in Her Ear Runs Through Saturday
April 11, 2008

Get directions to Wabash College Fine Arts Center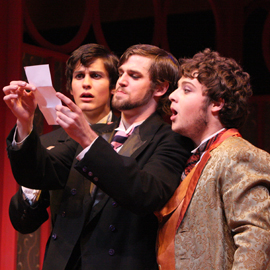 The Wabash College Theater Department will present A Flea in Her Ear by Georges Feydeau, which runs through Saturday night in the Ball Theater in the Fine Arts Center. The performances are scheduled for 8 p.m. each evening.
A Flea in Her Ear is a show SO big, SO wild, and SO much fun that we have THREE sets of photos, which you can see by clicking here, here, and here.
After years of wedded bliss, Raymonde Chandibise suspects her suddenly chaste husband Victor of having a mistress. Her best friend, Lucienne, concocts a plot to catch Victor by writing him an anonymous love letter suggesting a meeting at the hotel Coq d'Or.
The plan backfires, though, when Victor assumes the letter was meant for his best friend, Tournel, who has the hots for Raymonde. A Flea in Her Ear is a riotous farce full of slamming doors, mistaken identities, and sexual innuendo.
"I think Feydeau's work is a precursor to the Marx Brothers," says Director James Phillips, a visiting assistant professor of theater. "There is a sense of an overwhelming sea of chaos being held at bay by people desperate to regain security. It's fast, furious, and funny."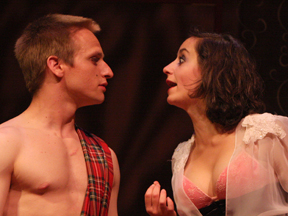 The cast list includes Mary Whidden as Raymonde, Isabel Jean-Portillo as Lucienne; Sara Locker as Antoinette/Eugenie; Emelie Darboise as Olympia; Matt Goodrich as Chandebise/Poche; Seth Einterz as Tournel; James Morey as Etienne; Spencer Elliot as Camille; Pat McAlister as Finache/Baptiste; Clay Zook as Feraillon; Christian Krenk as Rugby; and Jorge Rostro as Homenides de Histangua.
"The cast has been great working in a style that's new to a lot of them," says Phillips. "Farce is similar to a well-played basketball game in its movement, pace, and precision. It can be exhausting for the actors, but they've all run with the challenge."

The scene was designed by technical director James Gross. Says Phillips, "The design staff has also been exceptional on a huge show that's very difficult to build with a small staff. All of the design elements are beautiful."
Seating for Theater productions will be by general admission, though free tickets are required for Theater productions.

For tickets contact the Fine Arts Center Box Office by email at boxoffice@wabash.edu; phone: 765-361-6411. Box Office hours are Monday through Friday, 8:30 a.m. to 12 noon and 1:30 to 4 p.m. The box office will open 90 minutes before curtain time. Tickets not claimed at the Box Office 10 minutes prior to curtain will be released to the general public.