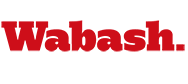 Jazz Band to Present Concert on Saturday Evening
by Karen Handley

April 8, 2008

Get directions to Wabash College Fine Arts Center

The Wabash College Jazz Band will present a spring concert at 8 p.m., Saturday, April 12, in Salter Concert Hall in the Fine Arts Center.

The Jazz Band, under the direction of Steve Robinett, will showcase the Wabash College Jazz Band and the Jazz Combo. The Jazz Band will be performing the music of great American composers Duke Ellington, Hoagy Carmichael, and George Gershwin. The Jazz Combo will feature music by jazz giant Thelonious Monk.

Admission to the concert is free. The public is cordially invited.