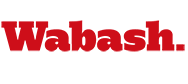 Wabash Club of Chicago Hosts President White
by Tom Runge

April 2, 2008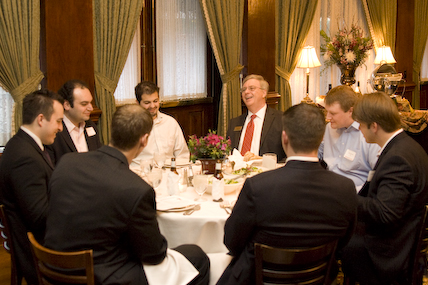 The Wabash Club of Chicago (WCC) gathered Tuesday, April 1, 2008 to welcome Wabash president Pat White back to the Windy City. The reception and dinner took place at legendary downtown Chicago restaurant Maggianos.
Club president Greg Jania '93 welcomed the group and introduced the Wabash senior staff members attending the dinner in addition to President White - Joe Emmick '92, Dean of Advancement, and senior major gift officer Steve Hoffman '85.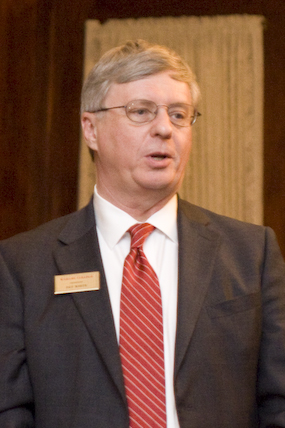 Following dinner President White updated the gathering on several Wabash initiatives. The College's new strategic plan, President White explained, will focus on building an even better student experience and the needs of the Country in the 21st Century. White also thanked those in attendance for their efforts in the Chicago area, especially their work on career opportunities for our graduates and for finding talented young men who would thrive at Wabash.
Eric Schoettle '93 also provided updates on upcoming Club events including a Cubs baseball outing on May 30, 2008 and the annual Chicago golf outing on August 18, 2008.
Many thanks to Greg Jania for his work in planning the evening and to the entire Wabash Club of Chicago for their hospitality.
Photos:
Top - President White surrounded by young alumni at dinner
Right - Pat White addresses the gathering.
For more photos of the evening, click here.