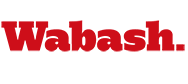 Ames Explains Chinese Philosophy
by Gary James '10

April 2, 2008

Dr. Roger Ames, a distinguished scholar of Chinese philosophy, asked a full audience to see China on its own terms Tuesday night in Hays 104.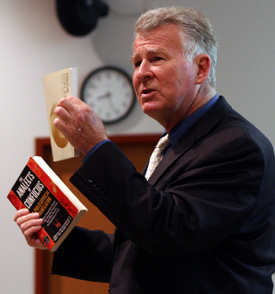 Utilizing perspectives of Western and Eastern writers and thinkers, Ames' presentation, "Here Comes China: Understanding China through its Culture," focused on China's global rise, Americans' disconnection to Chinese culture, and how concepts in the culture can be observed with respect to ideas about individuals and religion.
Ames compared China to an artifact placed in a museum.
"In becoming an artifact, it becomes something that's beautiful, something that is worth something, but it doesn't have the same function that it had in its own time and place," Ames said. "So what I want to do is to take this artifact — China — and say some things about it and try to push you to try to take China on its own terms; to try to see China from the inside."
Roger T. Ames is Professor of Philosophy and Director of the Center for Chinese Studies at the University of Hawaii. He is editor of the academic journal, Philosophy East & West, and has translated Chinese classics, including Sun-tzu: The Art of Warfare; Tracing Dao to its Source (with D.C. Lau); and the Confucian Analects (with H. Rosemont), and authored his own works, including Thinking Through Confucius and Thinking From the Han: Self, Truth, and Transcendence in Chinese and Western Culture (with D.L. Hall). Ames' visit was coordinated by Assistant Professor of History John Aden and its focus was to discuss the importance of Asian Studies programs.
"China is rising," Ames said candidly. "For 25 years China has sustained an unprecedented growth rate of seven-to-nine percent. It's just absolutely phenomenal. So economically, China has arrived. What I'll talk about today is 'what comes last.' You can't underestimate the importance of wealth, but Chinese culture is still a mystery to most Americans."
Ames recounted his observations about Western culture's view of China; how concepts beyond one's understanding is referred to as a 'Chinese puzzle' or how running around one's car — disoriented — at a stoplight called the 'Chinese fire drill.' Even in the more serious setting of a bookstore, Ames said he found evidence of the cultural disconnect. Books about Chinese philosophy were routinely placed the Eastern religions sections, even though the Chinese concept of religion differs significantly from the Western concept.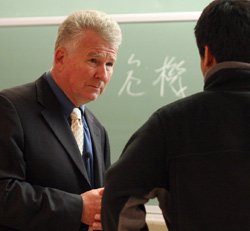 To convey both the cultural differences and the relevance of Chinese culture to Americans, Ames applied it to conventional, Western notions of personhood and religiousness.
"In a Chinese world, people define themselves in terms of having different roles and relationships," Ames said. "One way of thinking about me is that I'm here. Another way of thinking about me is that I'm somewhere in between my wife in Hong Kong and here. And that relationship is more defining of me. I am not here but I am ecologically, organically diffused in roles and relationships in the world. That's a Chinese way of thinking what it means to be a person."
Ames expounded on the how culture affects the way religion is approached in China as well. Instead of focusing on a transcendental religion, the Chinese focus on human-centered religion, Ames said. The focus is less on an outside god and more on a present and internal legacy of truth, beauty, and goodness. Chinese religious traditions focus on realizing spiritual ideals in one's own interactions with his community and focus less on teleology.
"If we Americans did religiousness like the Chinese did religiousness, our gods would be Shakespeare and Martin Luther King and Muller. They brought us up to where we are today," Ames said. "My point is not that Confucianism and Chinese traditions got it right, but really that this different way of thinking about what it means to be a person, this different way of being religious, is something that we ought to entertain. We ought to give this way of thinking a place at the table. We ought to be able to purse something that is relevant out of this slight encounter with Chinese culture."
Ames answered questions after his presentation on topics ranging from the Beijing Olympics to China's one-child policy. A segment of the audience was students enrolled in Dr. David Blix's Religions of China and Japan course. Being enrolled in the class gave the students a unique appreciation of the detail and context of the presentation.
"It was pretty impressive. This guy's ability to relate these complex Chinese social, historical, religious, and philosophical issues in such a short time is just amazing," Ben Bly '08 said. "He is very fluid going through his English to his Chinese and being able to relate the importance without corrupting the meaning. Having studied some of these ideas in Blix's 103 and 104 classes, it's very impressive to meet and hear one of the leading scholars not only in our nation but in the world."
Dr. Blix himself was in the audience, and he appreciated Ames' insight enough to develop his own insights about Ames.
"I thought it was an extraordinary presentation," Dr. Blix said. "I've read Ames' work for years and worked with his stuff on Confucius. I've had students read his stuff in my Confucius seminar. I think he does a very nice job of pulling out subtleties and layers of meaning in the Chinese vocabulary and in Confucius that we sometimes we don't get ordinary English translations. I especially like the way he laid it out tonight. He's a Confucian. He may not know it, but he's a Confucian. And he presented it in a respectful and pleasant manner which I think involved everybody in the discussion and built up a sense of real family (jia) in the room."
Photos by Clayton Craig '08