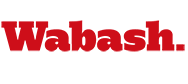 Prifogle to Give Junior Recital Sunday
March 26, 2008

Get directions to Wabash College Fine Arts Center

Wabash junior Kyle Prifogle, described by his teacher as "one of the most exciting and talented pianists I have known," will present his junior recital this Sunday afternoon at 4 p.m. in the Lewis Salter Concert Hall.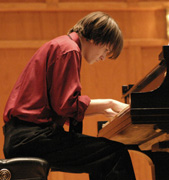 "In my 35 years at Wabash, he is one of the most talented and exciting pianists I have known," said Prifogle's piano teacher, Diane Norton. "He brings a great deal of energy and musical integrity to the stage, and it is an absolute joy to teach him."
Prifogle will perform Johann Sebastian Bach's Concerto In F Major, BWV 971 ("Italian"), György Ligeti's Études pour piano, Claude Debussy's Estampes, and Serge Prokofiev's Sonata No.3, Opus 28.
"His program is technically and musically gigantic, and includes a variety of styles and genre," says Norton. "Perhaps most challenging are the two Ligeti etudes he is playing. John Failey '72, who purchased our wonderful Steinway, and financed the re-building of the Bosendorfer met Kyle during the Bosendorfer dedication concert, and asked if he would be interested in playing these Etudes at some point. John then purchased the music for the Etudes for the Lilly Library to make them available to our students. It is from these scores that Kyle has worked to prepare for this program."
Prifogle, a mathematics major from Ridgeville, Indiana, participated in the Wabash Summer Algebra Institute in 2007. He is also a madinda player in the Wabash world music ensemble, Wamidan.