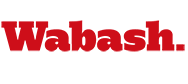 Author Discusses Ezra Pound's Life
by Gary James '10

March 21, 2008

James Longenbach and Jim Rader traveled separate roads on their way to developing a profound interest in the same literary figure, Ezra Pound. But by coincidence, or perhaps by fate, their two paths crossed Thursday night.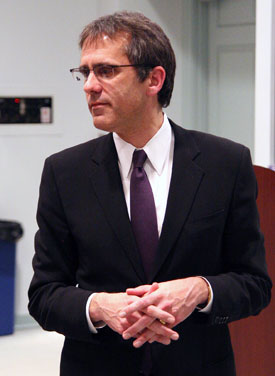 When Jim Rader '60 decided to do research in the college archives more than 50 years ago, he was a freshman gathering information about early twentieth-century sports teams for speech class. The Indiana native scoured volumes of The Wabash and eventually found a picture of Ezra Pound. Pound – a worldly poet who had a very brief and tumultuous tenure at Wabash, interested Rader, who would spend the next 50 years learning more about the man.
Rader is currently working on a book about Pound. Fifty years after his initial discovery, the current resident of Grand Isle, Vermont, found himself in the Wabash archives once again to tie up loose ends. Rader spent four days in Crawfordsville conducting research, but not all of that time was spent in the archives. He attended a talk by Dr. James Longenbach in Lovell Lecture Room.
Rader has recently found new information on Pound's years at Wabash. "There have been some recent new developments that I can't talk about because I don't have clearance," Rader said. "New documentation has been discovered that put light on Wabash's role in Pound's departure. It's all very exciting."
Longenbach is an American poet and critic. He teaches English at the University of Rochester in New York, and he has authored more than eight books, including Stone Cottage: Pound, Yeats, and Modernism. Dr. Longenbach's talk: Pound at Home: The Crawfordsville State of Mind," coincided with the centennial of the poet's abrupt departure from Wabash College.
"Seventy years after Pound bought the Odyssey [which became the basis for parts of his Cantos], I walked into a bookstore in Hartford, Connecticut in the fall of 1978," Longenbach said. "And there on the used book table just into the door was a copy of the Cantos of Ezra Pound. A big, thick, expensive book, and the price was a dollar. I heard enough about Pound to know that I ought to know more. I snatched the book. Laid down a dollar. And ran out of the store."
What Longenbach knew of Pound was probably what most people know about Pound. He was a poet with a dynamic personality, born in Idaho and died in Venice. He was hired by Wabash President George McIntosh to teach Spanish and German and was known for smoking cigarettes, missing chapel, donning his very own style of dress, and holding soirees.
However, Pound is most popularly known for a series of scandals, the first surrounding the presence of a female/male impersonator (part of a larger group of vaudevillians) in his Washington street rooming house. The second incident, as recounted in Wabash College: The First Hundred Years, surrounds the presence of another woman in Pound's new residence on South Grant Ave. He was dismissed February 14, 1908, shortly after his landlady told the president and a number of trustees about the incident.
According to Longenbach, the popular legend of Pound often centers around a creative and flamboyant artist forced from the college by the narrow-minded conventions of small-town America. His relocation to Europe, Longenbach continued, freed him to do the great things he was meant to do.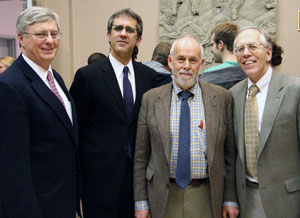 Longenbach does not endorse that conjecture. Pound was forced out of a number of places, not having succeeded in transforming them into the cultural capitals he desired, including London, Paris, and Venice.
"The romantic poet Percy Shelley said famously that poets can be unacknowledged legislators of their time," Longenbach said. "And Pound said that poets ought to be acknowledged legislators. There is something weirdly narcissistic but also something weirdly, charmingly noble about this ambition. It forced Pound to think of himself as someone stuck in a world that refused to acknowledge his power to make the world a better place, someone eternally exiled from the cultural richness to which he also aspired. One by one, every place where Pound lived disappointed him by refusing his effort to transform that place to the cultural capital it deserved to be."
In that respect, Pound's brief tenure at Wabash College was not an aberration, Longenbach argued. Instead, it was the type of place and state of mind Pound required to write the poetry he leaves his fans today. He would replicate the type of exile he experienced by leaving Wabash in other places. From his Canto 80, Longenbach recounted, Pound writes he left America with $80, England with a letter from Thomas Hardy, and Italy with one eucalyptus pip.
Rader hopes his book will add new twists to Pouind's story. "I've always seen the book as much about Wabash as about Pound," the 1960 graduate said. "I hope in my book to give the reader a feel for how Wabash was and how Crawfordsville was as much as who Pound was and what happened to him here.
"It's a fascinating story in it's own right. I got hooked on it fifty years ago. And I've discovered that it's an even more complex story than I expected in the beginning. And I think if it's told well it'll be a very interesting read."
Like William Butler Yeats, Pound wanted to be "a specialist in Renaissances," said Longenbach. "And that aspiration required places where Pound felt "homesick for a home that did not yet exist."
Anytime Pound was at odds with his surrounding, he was home: that's Crawfordsville state of mind.
"There's something chilling about the artist who never changes, who continually recreates the terms of his own failure so that he might enjoy the strange species of success and notoriety," said Longenbach. "Over time the logic isolated Pound from the world that he also wanted to change. Crawfordsville, London, Paris, Ropollo, Pound never lived in exile. He lived at home."
Photos by Clayton Craig '08
In photos: On homepage, Rader talks with Longenbach. Above right, Longenbach answers questions from the audience. Lower left, President Patrick White, Longenbach, Rader, and English professor and poet Marc Hudson.