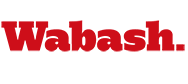 Poet Urges Students: "Be a Mandate for Love"
by Steve Charles

March 21, 2008

Acclaimed author and poet Mari Evans was honored with the Jasmine Robinson Pioneer Award at Wabash on Thursday night, but she came to give, as well as receive.

In a Holy Week in which Senator Barack Obama's historic speech on race reminded us that Sunday morning is still the most segregated hour in America, Professor Evans told her Wabash audience that tonight was Maundy Thursday in the Christian tradition.

"Maundy can be translated from the Latin to mean 'mandate,'" she said, quoting a pastor she had heard preach on the subject. "And we've been given a mandate to love."

"You are the solution Senator Obama envisions," Professor Evans told the students. "We can be the manifestation of Maundy Thursday. We can model a new mandate for love."

A complete article on the event will be posted later on Friday. Click here for a photo album from Thursday's Second Annual Jasmine Robinson Pioneer Award ceremony.