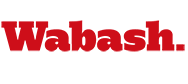 Lambert Looking Forward to Nationals
by Matt Wilson
The Journal Review

March 13, 2008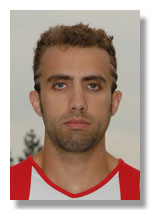 Wabash College senior Geoff Lambert isn't dwelling on last year's experience as he prepares for Friday's 800-meter run at the NCAA Division III Indoor National Championships at Ohio Northern University. Lambert qualified for last year's nationals and was in a battle for the championship with Ohio Northern's Jimmy O'Brien. Lambert was in the lead until the final 50-meter sprint, when O'Brien overtook him to win in a time of 1:53.48. Lambert crossed the finish line in 1:53.84.
"I'm not really thinking about that, my focus is this year," Lambert said. "I thought about it during my summer and winter training, but this week I'm just thinking about this being a new year and I'm not dwelling on last year. I'm looking to the future at this point."
Lambert said he hasn't changed much in his training for his trip to Ada, Ohio. He went through his usual Sunday long run, which has been a staple of the Wabash program. He had his hard workout Tuesday, then Wednesday and today will have light training before Friday's race.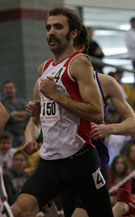 Lambert, a Chesterton High School graduate, waited until the last possible race to qualify for his second indoor and fifth overall national tournament. He joined teammates Rob Smallman and Hugh Jackson at Friday's DePauw Indoor Last Chance Qualifier. Lambert earned an automatic qualifying time into nationals after winning Friday's event in a time of 1:52.70. He joins O'Brien with the fourth-quickest seed time among the 12 national participants. Hamilton College sophomore Peter Kosgei leads the way with his seed time of 1:52.42. Seniors Nick Stenuf of Nazareth College and Adam Pennington of North Central College both have seed times of 1:52.60.
Before the DePauw meet, Lambert's quickest time was a 1:53.93, which was 14th in the country and wouldn't have qualified him for the national meet. Lambert said he's normally a pretty nervous person, but the meet at DePauw was smaller so he knew everyone in the field. He went out hard, running his first 200 meters in 26.8 seconds, which was right where he needed to be. He was at 55 seconds at the quarter-mile mark, then the third 200 was when he pushed himself even more.
"I was happy that I ran fast enough to get an automatic seed," Lambert said. "But at this point, seeds don't matter. I'm happy I made the field and we'll see how things work out."
Lambert has competed in four national championships — two indoor and two outdoor — and has made it to the final race twice. He will be running in the second of two heats Friday. The top two finishers from each heat and the next four quickest times advance to Saturday's finals.
Before thinking about running for a national championship, Lambert said his main focus is getting to the finals. Should he get one of the top-eight spots after Friday, Lambert said he and distance coach Roger Busch will go to dinner and plan out the strategy for Saturday's finals.
To advance out of Friday, Lambert said he has to get out and run with the top two or three people in the field for the first 200 meters. After going out hard, he has to stay consistent through the first 600 meters and make it an honest, hard race.
"I'm going to get nervous on Friday before warmups then I'm going to calm down once I start stretching out," Lambert said. "Then once I get my spikes on the nerves are going to start again. But I know the field and just can't go out and overanalyze and think too much."
Busch said Lambert's progression has been tailored toward making nationals. He battled injuries during the fall cross country season, then early in the winter had hip and knee issues.
"A lot of his training has been based on performing back-to-back days," Busch said. "He has to get mentally prepared to get up toward the front. But you can't run for a national championship unless you get out of prelims, so we will start planning and strategizing for the championship race when that happens."
Also finishing fifth in the 2006 Outdoor National Championships, Lambert has gained All-American honors twice during his collegiate career. He said his third opportunity to gain All-American honors will be another step in putting the Wabash program back on the map.
"Going for All-American for a third time not only means a lot to me but for Roger Busch and the entire program," Lambert said. "Since Busch came here, we have been trying to program back to the way when Busch ran here. It will be important for me to see the program continue to build up."
Lambert doesn't plan on leaving the Montgomery County area after graduation. Next year, he will be a student teacher at North Montgomery High School and will continue training under Busch.
This story originally appeared in The Journal Review.