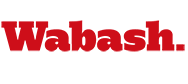 Honor Scholarship Weekend Has Long History
by Howard W. Hewitt

March 4, 2008

A Wabash College scholarship program started more than 100 years ago, has grown into one of the largest scholarship weekend events in the country. Wabash will host Honor Scholarship Weekend Mar. 14-15.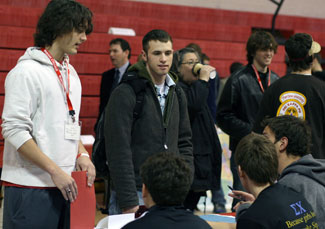 The magnitude of Honor Scholar weekend has grown from $16 in 1894 to approximately $3.5 million in 2008. George Ferguson, an 1898 graduate, was the first recipient banking $16 to cover his $8 a semester education cost. Back then preference was given to students wanting to become teachers or preachers. (Learn details about Honor Scholarship Weekend here.)
More than 350 young men will be here competing for up to $20,000 a year for their Wabash education. Last year nearly $3.5 million was awarded.
"Honor Scholarship Weekend is a vital part of the college search process for so many of the high school seniors who are considering Wabash," Dean of Admissions Steve Klein said. "Unlike our other visit programs, it provides considerable free time for prospects to spend time with Wabash students in a relaxed atmosphere. For many, it is their first chance to spend the night and get a better understanding of social life opportunities."
Students will be tested in a wide range of academic areas, stay in residence halls and fraternities, and be entertained throughout the weekend.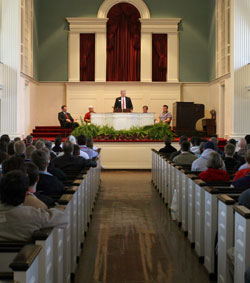 The program has evolved through the years. In the 1950s, only five scholarships were awarded ranging from $150 to $600 per year. In 1970, students didn't take any tests but did participate in interviews.
The program struggled at times in the 1970s with funding issues. Prospective students would take only two exams math/science or English/history. This year's testing includes English, history, foreign languages, math, and science.
But it's not just about the testing; it is a real chance to get a feel for the campus outside the classroom.
"There's a lot of money to be awarded, and much fun to be had," wrote student blogger Michael Richmond '11. "Yes, fun. I had fun. Visiting fraternities and speaking with students and faculty is actually a pretty good time. There's a lot of free food, and all the guys will be really nice to you."
The weekend is one of the year's most critical for student recruitment.
"There is a saying in our office 'As Honors goes, so goes the year,' Klein said. "That holds true as two thirds of the attendees eventually choose Wabash and that group comprises over 80 percent of the entering class. Visiting students always have a great time which convinces many of them to select Wabash before the May 1 deadline."
In photos: Upper left, Friday morning will feature an activity fair allowing prospective students to learn more about student clubs and activities. Lower right, President Patrick White addresses the prospects.