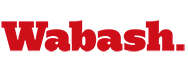 Little Giants Head To Semis With 13-Point Win at Kenyon
by Brent Harris

February 26, 2008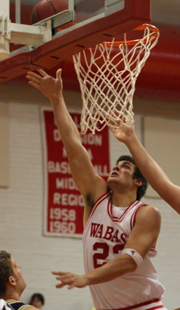 Aaron Brock's 21 points led four Wabash players scoring in double figures in the Little Giants' 86-73 win at Kenyon in the quarterfinals of the 2008 North Coast Athletic Conference Men's Basketball Tournament.
Andrew Zimmer added 18 points, along with 17 from Gary Simkus and 13 from Wes Smith in the victory.
The Little Giants jumped out to a ten-point halftime lead on 19-of-35 shooting from the field while holding the Lords to 11-of-22. Only Kenyon's free throw shooting and the outside game of Kodey Haddox kept Kenyon in the game.
Haddox gave Kenyon a three-point lead early on before a 13- run by Wabash put the Little Giants in front for good. Simkus sparked the run with three consecutive treys, part of a 7-of-11 half from beyond the arc.
Wabash maintained its edge, moving in front by 12 on a three-pointer by Earl Rooks with 2:43 left in the half before settling for the 46-36 halftime edge.
The Lords came out shooting in the second half, cutting the Wabash lead to three just five minutes into the period. The Little Giants responded by going to the right block repeatedly. Brock scored back-to-back layups for a 54-47 lead before Zimmer added a third. Brock scored one again and hit a free throw after being fouled to push the edge to 12.
Smith forced a steal at the other end of the floor, tying the Wabash single season record for steals with his 63rd of the year. He equaled the mark set by Mike Lustina '95 in 1993-94. Smith missed a jumper on the offensive end, but Zimmer made a left-handed tip to put the Little Giants in front 14. The Little Giants forced another turnover, then missed three shots on a series of offensive boards before Smith grabbed the last rebound and hit a layup for a 63-47 lead. The Lords would get no closer than nine points over the final nine minutes to end their season at 13-13.
Smith recorded a double-double with 13 rebounds to go along with his 13 points. Kenyon had picked up 36 offensive rebounds in two previous regular season games against the Little Giants. This time it was Wabash hitting the offensive glass, grabbing 11 offensive boards compared to seven for Kenyon. The Little Giants outrebounded Kenyon 37-26.
Wabash (17-9) heads to Wooster for Friday night's semifinal game. The Little Giants play the top-seeded and 11th-ranked Scots in the second game at 7:30 p.m.
Game Stats