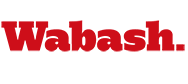 Career Services Busy Helping Seniors Find Jobs
by Chris Barsotti, Journal Review

February 25, 2008

About this time of year, college seniors get nervous.

In about three months, they will be released into "the real world," and it won't be a very pleasant place if they don't have a job.

If they are attending Wabash College, and they have yet to land a job, they probably have scheduled an appointment with Scott Crawford.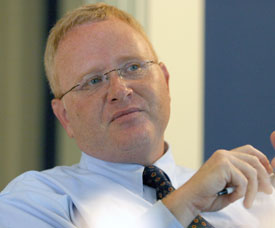 Crawford is the director of the Schroeder Center for Career Development. He is in charge of helping students become better prepared for their future jobs and he also helps students find job openings.
"This is our busiest time of the year," Crawford said. "We have a steady flow of students coming in and out all year, but right now is when we really start to see an increase in kids looking for our help."
Even though the economy is not doing so well, Crawford said it hasn't affected the job market much. He said there are a lot of positions available and quite a few Wabash students have accepted jobs.
For seniors Steve Miller and Trayton White, the process is over. They can look forward to the end of their college careers while being excited about starting a new job in the summer.
Miller took a position with Walker Information in Indianapolis as an assistant project manager. He said he is going to be doing business analysis at Walker Information. He said one of the firm's big studies is customer loyalty so he will be dealing with people, trying to solve problems.
White took a little different route to his job with Ford as a financial analyst. He is a chemistry major and wasn't sure what he wanted to do until this offer came along.
"Ford was the first place to show interest and I thought it would be a good place to start," White said. "I really think having a chemistry background and the way our education is set up here that it helped me get the job."
White said Wabash students benefit because they take a wide variety of subjects.
"Employers look at us and see a wide range of skills and it makes it easier for them to invest time in us," White said.
Crawford agrees, saying Wabash students tend to be very open minded and ready to take on anything that comes their way.
He believes there are more jobs available than students looking. He said on average there are about 150 jobs posted at one time for Wabash students to examine at Career Services.
All three agreed the biggest thing helping Wabash was the alumni and their involvement around campus.
"There are a decent percentage of jobs we get posted from alumni," Crawford said. "They come to us and look for resume referrals to find students who meet criteria."
Miller said the alumni feel a major connection to the school because of the unique experience they receive.
"It is great to see the alumni caring so much about the college and the current students who are here," he said.
Crawford said students need to realize the longer they wait to start their search the better the chance of missing out. He said it is important to network and try to get their name out there. "We help students who come to us as best we can," Crawford said. "It all depends on how much the student is willing to put into the process. We like to think the more they put in, the more they will get out of it.
"We make sure they know they are doing this for themselves and it is not just an investment right now, but an investment in their futures."
Miller and White couldn't say enough positive things about Crawford and his team at the Schroeder Center. Both added they were fortunate to find jobs the way they did, but they also gave a lot of credit to the help they received.