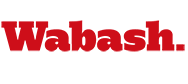 Malcolm X Speaker Encourages Embracing Change
by Gary James '10

February 22, 2008

Award-winning journalist and author Jill Nelson urged a captivated audience in Korb classroom Thursday night to change the world and themselves in memory of Malcolm X.

In preparing her presentation, "Malcolm X and a Lifetime in the Pursuit of Knowledge," Nelson reread the Autobiography of Malcolm X. Although she had read his personal story at least five other times, Nelson derived new lessons from the life of the late civil rights leader.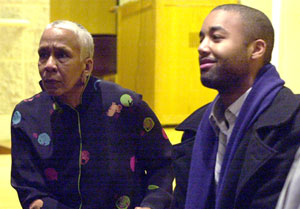 "As well as in reading this powerful book, I was struck by the richness of Malcolm X's experience, of his incredible insight throughout his life, and by his superb and superior intellect," Nelson said. "Most of all, I was struck by how continually relevant Malcolm X's observations are, his experiences are, the obstacles that he navigated and the process that he went through in order to organize himself and figure out a vision he could use through which to see the world. And also his amazing commitment to the struggle for social justice. I think it's really important that we remember him and think about his life in the past but more so what lessons he still has to offer and to teach us."
Nelson, aunt of senior Ryan Morris, grew up in Harlem and graduated from City College of New York and the Columbia School of Journalism. Her work has appeared in The New York Times, Essence Magazine, The Nation, The Washington Post, the Village Voice, and a number of other publications. Nelson's work with the Washington Post Magazine earned her a Journalist of the Year Award. She continues to freelance as a columnist for NiaOnline and USA Today and has developed an extensive lecturing circuit. Nelson is also a prolific author, writing Straight, No Chaser: How I Became A Grown-Up Black Woman, Sexual Healing, and her award-winning and best-selling memoir Volunteer Slavery: My Authentic Negro Experience. Her talk Thursday coincided with the 43rd anniversary of Malcolm X's assassination.
The lessons she shared were based on Malcolm X's willingness to learn and change with regards to his attitudes towards education, race, religion, and women. Despite setbacks and warped views in these areas, Malcolm ended his life having made bounding progress in each realm.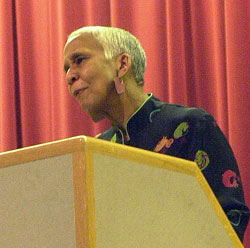 After an elementary school teacher discouraged Malcolm from pursuing the idea of becoming a lawyer, the future civil rights activist rejected formal education, Nelson recounted. He found a different way of learning.
"[Malcolm] learns how to become a successful thief," Nelson said. "He learns how to become a successful sweet talker. He educates himself in the hustle that he thinks is his only option in life. Eventually, he goes to prison, where he started reading the dictionary"; and developed "a thirst for always learning, for doing better, for knowing more, and the commitment to do it for self was present even in those hairy, crazy days."
In embracing education and critical thinking, Malcolm realized contradiction in the Nation of Islam and chose a different path.
"This man, who has preached for years about the white man being the devil, pushes himself to become what I think is a citizen of the planet," Nelson said." He goes to Mecca and comes back to find an understanding that it's possible for people of all colors to live in brotherhood, to share religion. I think [it's an example] of how change is difficult and takes such courage. And the way it's so easy for all of us to become complicit. It's a great moment for all of us to study and consider and savor those lessons of Malcolm X whose life embodied the ability to not only embrace change but seek it out and risk it."
Photos by Elijah Sanders '10