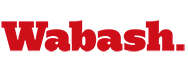 Internship Month: Celebrating Life-Changing Experiences
by Steve Charles

February 18, 2008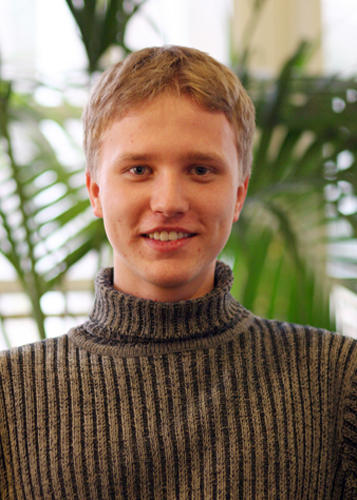 Wabash junior Michael Opieczonek's internship last summer at a bank in Poland was more demanding than he'd ever imagined. But, he says, the College's Summer Business Immersion Program got him ready for it.

"I had to further evolve my speaking and discussion skills, and I had to learn how to speak more efficiently," Opieczonek says of the program. "I became more confident in myself."

He needed that confidence, too, arriving in Warsaw late on a Monday night and showing up for work bright and early Tuesday morning.

"I asked them, 'So what's my project?' They said, 'Why don't you analyze the effectiveness of corporate wholesale banking for ING Bank in all of Poland?'"

Michael mimics the wide-eyed look he gave his bosses.

"But we learn at Wabash how to learn. It's not just sitting here and waiting for someone to come and show you how to do it. Wabash makes you think—to create something from scratch. And I had to do that."

Opieczonek's work not only earned the respect of his bosses, but may be a stepping stone to another internship for him in Poland this year. His story is just one of hundreds from Wabash students who have found their internships or their experiences in the College's Business, Marketing, and Entrepreneurship Immersion programs to be life-changing.

A survey conducted in 2007 found that more than 70% of Wabash seniors had participated in at least one internship during their time at Wabash, up from 50% three years ago. And the opportunities are as varied as they are plentiful: Two students helped a Wabash alumnus get a small business get off the ground in Chicago, while another studied religious communities in Indiana. One worked in micro-finance in Bangladesh, while another interned at the National Art Gallery of Belgium. From researching African-American historical sites in Indiana to conducting scientific research as a chemist in Delaware or a biologist in Alaska, students found their internships clarifying and life-changing.

"I had a great time," says senior Gary Simkus, who worked for the non-profit organization Amigos de San Cristobal in Chiapas, Mexico, co-founded by Wabash alumnus David Orr '57 and his wife, Nancy. "I got to see the country and learn about all the programs trying to support the people and communities of Chiapas. I learned to listen to what people need and try to see what you can do to help meet those needs."

Senior history major and future high-school teacher Justin Gardiner spent his summer researching the letters to Abraham Lincoln from a Civil War-era senator.

"Conducting that research gave me a true appreciation for what I'm studying at Wabash and made me certain that I not only chose the right major, but the right career path," Gardiner says.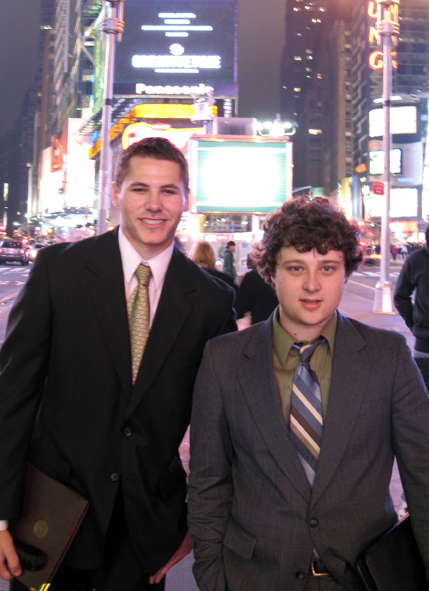 In 2007, students interned at hospitals, universities, non-profit organizations such as UNICEF and Indianapolis' Partners in Housing, the offices of elected officials, and businesses large and small, including Abbott Laboratories, Eli Lilly & Co., Citigroup, Duke Energy, and the Indianapolis Motor Speedway.

The College Small Business Internship Fund (SBIF) also gives students the chance to work side-by-side with entrepreneurs.

"I have gained a deep sense of direction and purpose with what I want to do with my life," wrote James Tyree '08 of his SBIF internship. "The experiences I had helped me realize that I want to pursue a career where I can have a lot of personal interaction, and can help better my community."

Such comments are music to the ears of Director of Career Services Scott Crawford, who arrived at Wabash in Fall 2005 determined to give students better access to internships.

"There was a problem; students weren't sure where to go," says Crawford. "But people do know that we're the go-to office for internships now.

"All Wabash-sponsored or funded internships are posted at the same time. We do this to make sure that we're all on the same page as far as what internships are available, but also so students can keep straight in their minds the deadlines they have to meet to get any internship, and they can see everything available at once.
Our goal is to make sure that these are accessible, open, fair and equitable for all students. Our goal is for every student to have at least one internship."

Declaring February "Internship Month" is one of many ways Crawford and his staff remind students that internships are both an essential introduction to careers they are interested in and a great way to connect with Wabash alumni.

"They have to realize that they're not living just in the tiny Wabash world; they are competing with the entire world. Alumni can be incredibly helpful communicating this to students. Most of our students who go directly into the workforce go into business in some fashion when they graduate. They need to take advantage of opportunities we offer to connect with alumni."
Looking back on last summer and his own internship, Michael Opieczonek believes he did gain a better understanding of what it takes to compete in the business world—especially as an entrepreneur.

"It takes a lot of creativity. You have to be stress resistant and you have to be excited about what you do," he explains. "Everyone has wants and dreams, but if you want those dreams to come true you have to help them come true."
Learn more about Wabash internships here.
See a list of past internships here.
Photos: Upper right, Michael Opieczonek '09 (Photo by Kim Johnson); lower left, Steve Zajac '10 and Patrick McAlister '10 at Times Square during the College's New York Immersion trip, where students met with alumni to learn about careers in the city.