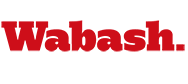 1,066 - Swimmers Pass Milestone
by Howard W. Hewitt

February 17, 2008

CANTON, Ohio – Wabash swimmers would have made a Rhodes Scholar proud here Saturday night. They certainly had their coach beaming. The Little Giants claimed third place in the NCAC Swimming and Diving Championships with 1,066 points.

The swim team has worked for a return to prominence in the meet, featuring powerhouses Denison and perennial national champion Kenyon. The team has sought to score 1,000 points. See photos from Saturday's final: Photo Album No. 1 & Photo Album No. 2.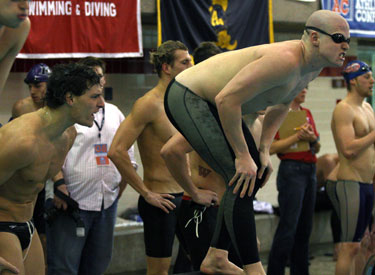 In 2000, the Little Giants scored their highest total since joining the NCAC in 1999 with 1,103.5. But after that year the totals dropped until last year's 998 and this year's 1,066.
The 1,103 now makes a great goal for next year.
"I think we were all pretty sure we were going to make it to 1,000 points tonight," John Kasey '08 said. "The guys started off pretty well. They pushed themselves pretty hard. It was good to see that 1,000 points finally go up. Last year we were at 998 which was pretty tough. So this year it's a really good feeling."
During the course of the evening Little Giant coaches figured the team could end with 1,066. The Wabash men quickly came up with a moniker which would make Professor of History Steve Morillo, a Rhodes Scholar and Hastings authority, very proud.
"Our boys are calling it the Battle of Hastings," Coach John Weitz said of the Saturday night performance. "Wabash men understand their history and they pointed out to me that 1066 was the Battle of Hastings. That makes me realize why I'm at Wabash. These men are students first, athletes second and it's an absolute pleasure to be involved with them."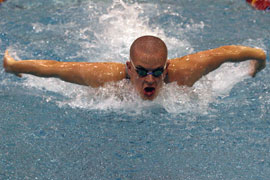 It wasn't easy though. Weitz said nearly a third of the team was suffering from the flu. Standout freshman Evan Rhinesmith, the team's best breaststroker, went home early and didn't compete Saturday night.
"We had guys swimming grueling events and getting sick in between and getting sick before it," Weitz said. "Rhinesmith had a really high fever and wasn't able to swim tonight. If we had him here we might have scored the highest amount of points we've ever scored at this meet."
There were plenty of standouts Saturday night. Elijah Sanders '10 started things with a bang for Wabash with his second school record of the meet. His 16:32.35 in the 1,650 freestyle smashed Michael Belanger's 16:36.60 set in 2005.
Sanders claimed the 500 free record Thursday night taking nearly four seconds off that mark.
The Little Giant butterfly swimmers had a huge impact piling up points. Adam Petro qualified with a B cut for the national championships with a third-place finish. Freshman David Birrer claimed sixth. Freshman Adam Current was 15th and sophomore Robert Fozkos took 17th. The butterfly performance put Wabash over the 1,000 point mark which was posted on the scoreboard shortly after the event.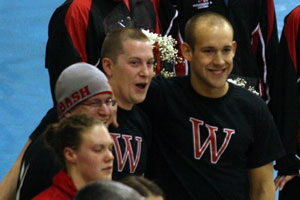 Perennial national champion Kenyon College won the meet with 1,633 points. Denison led much of the meet until Saturday and finished second with 1598. The Little Giants were followed by Wittenberg (768), Wooster (740), Allegheny (477), Hiram (432), Ohio Wesleyan (405), and Oberlin (327). The Kenyon women also edged Denison. Full meet results can bee seen here.
The conference honors every team's seniors on the final night. John Kasey, Kyle O'Keefe, and Aaron Spolarich participated in the Senior Walk.
Kasey was proud of his team's effort, and admitted his final swim meet was a tad bittersweet. "I've been doing this for 16 years," Kasey said. "It's been the best thing I've done at Wabash by far. I met the best guys, the best coaches and I'll put it up against any classroom. These guys are not just super in the pool. It's part of being involved in sports in general; it's just a great part of life."
In photos: Top left, Craig Vetor is fired up for his leg of the final event, the 400 free relay. He gets encouragement from Jordan Blackwell. At center right, Petro swims to a third in the butterfly. Lower left, Seniors Spolarich, O'Keefe, and Kasey are honored before the meet.