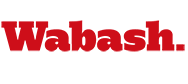 First Two Days NCAC Wrapup
by Howard W. Hewitt

February 15, 2008

CANTON, Ohio - Wabash swimmers couldn't duplicate Friday's remarkable accomplishment of putting a swimmer in every final, but they will have at least four entries in the five events Saturday night.

Wabash's swimmers are just 252 points from an achievement they've worked toward since 1999. A big Friday performance put the swim team in strong position to easily top 1,000 points in the 2008 North Coast Athletic Conference Swimming and Diving Championships.

Adam Petro clocked the third fastest time in the 200 breaststroke this morning and will be joined by freshman David Birrer in the finals. Adam Current made the B finals and just missed the top eight.

Petro will also compete in the 200 backstroke, having recorded the fifth fastest time. But teammates Peter Hewitt, Zach Phillips, and Eric Vaughn will help rack up the points with slots in the B heat.

No Little Giant made the 100 free finals or 200 breast. Jordan Blackwell just missed making the finals and will swim in the B heat with Craig Veter, and Phil Towne. Kyle O'Keefe made the B finals of the breast. Wabash's best shot in the breaststroke, freshman Evan Rhinesmith, headed back to Indiana feeling ill.

The night and meet will wrap up with the 400 free relay. Wabash's team of Blackwell, Vaughn, Blaine Cooper-Surma, and Veter had the third fastest time.

The 1,650 will take place later today as a timed final.

Wabash is sitting in third place behind Denison and Kenyon heading into the finals. Click here to see photo album from Friday's competition.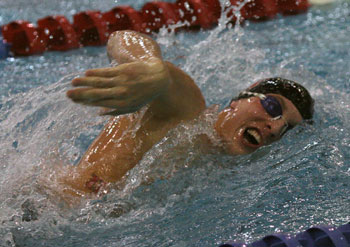 "I am delirious," said an excited Little Giant Head Coach John Weitz. "As difficult as the second day is and especially the second night, the weight is lifted. The kids know there's nothing else the next day after Saturday night. These men will fight to the very last. I'm really psyched and can't wait to see us go over 1000 points."
The quartet of Zach Phillips, Evan Rhinesmith, Adam Petro, and Robert Fozkos earned All-Conference honors in the 200-yard medley relay to start the second day's events. After swimming to a morning preliminary time of 1:35.87, the Little Giants trimmed nearly a second off their time in the finals by touching in 1:35.09.
Craig Vetor, Jordon Blackwell, Blaine Cooper-Surma, and Elijah Sanders added the third All-NCAC award for the meet in the 800 by finishing in 7:01.96, almost eight seconds faster than their morning time of 7:09.62.
"We had a great night," Weitz said. "We started off with a tremendous relay and wrapped up with a tremendous relay. Having had an individual swimmer in every single final today is a huge, huge success for us. So I really, honestly, could not be happier with the way we performed.
Wabash placed swimmers in the "A" finals of every event Friday evening. Sanders, fresh from his record-setting performance in Thursday's 500 freestyle, took eighth place in the 400-yard individual medley with a time of 4:12.95. Peter Hewitt added 16 points to the Little Giants' team totals with his 11th place finish, cutting almost four seconds off his prelim time with a finals mark of 4:15.37.
Vetor and Blackwell earned starts in the "A" finals of the 200-yard freestyle. Vetor took sixth place (1:44.16), while Blackwell finished eighth (1:45.37). The Little Giants scored a total of 69 points in the event thanks to the 15th-place finish by Cooper-Surma (1:47.30) and 16th place points from Chad Woods (1:47.31).
Rhinesmith took seventh in the 100 breaststroke (59.78). Philip Towne was 14th (1:01.49), while Kyle O'Keefe touched in 15th place (1:02.08). Phillips earned eighth-place points in the 100 backstroke with a time of 53.61. Eric Vaughn was 11th (53.65). Nick Rockefeller finished in 16th place (56.06).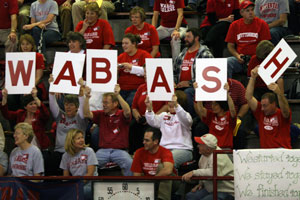 The Little Giants scored 59 points in three-meter diving. Rob Fenoglio took eight place on the board with a score of 323.25. Freshman Cole Hatcher finished ninth (287.95), while fellow rookie Tyler Foster was tenth (277.25).
Wabash is poised to smash its goal of 1,000 team points at the meet. The Little Giants are currently third with 748 points after two days of competition, trailing Denison (1,156) in first place and defending champions and 22-time conference title-winners Kenyon (1,126) in second. Wittenberg (521) is fourth, with Wooster (501), Allegheny (338), Ohio Wesleyan (289), Hiram (285), and Oberlin (272) completing the team scores.
"We're going to have more than 700 points after tonight," Weitz said before the final tally of 748 was posted. "If you'd told me that before the meet started, I wouldn't have believed it. I don't don't care how we did it."
The meet concludes Saturday evening. Preliminaries begin at 10 a.m. with the finals slated to start at 6:30 p.m. after the annual senior walk to begin the last night of competition.
In Photos: Top left, Blaine Cooper-Surma in the 800 free relay. At right, parents spell out WABASH after the team sings "Old Wabash." On homepage, Craig Veter in the 800 free.