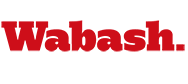 IAWM Names Bob Grand '78 Man of the Year
by Tom Runge

February 10, 2008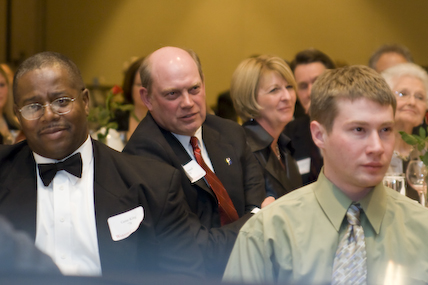 The Indianapolis Association of Wabash Men (IAWM) named Wabash Trustee Bob Grand '78 their man of the year at the association's annual Valentines Dinner. Bob was specifically recognized for his significant contributions to Wabash College, to his law firm, Barnes and Thornburg, and for his efforts to support a strong Marion county and Indiana.
Wabash Trustee and IAWM president DJ Johnson '82 served as the evening's emcee. DJ welcomed the group and introduced the evening's lengthy VIP list, including several Wabash Trustees, President White, Dean for Advancement Joe Emmick, and Wabash Professor Greg Redding '88.
Following dinner, DJ introduced President Pat White who congratulated Bob on the award and thanked the Indianapolis group for all they do for Wabash. Following President White, several local alumni leaders congratulated Bob and his wife Melody and offer several tributes.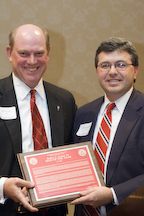 - Paul Jefferson '92 read several testimonials, including ones from former Wabash President Thad Seymour and Indiana senator Richard Lugar.
- Ray LaDriere '78 pledge brother and former roommate of Grand's, read a moving letter from Bob's oldest son, Ryan.
- Brian Burdick '91 made the formal presentation of the Man of the Year Award.
Many thanks to the IAWM and their president, DJ Johnson '82, as well as event organizers Scott Quick '88 and Jon Pactor '71.
Photos:
Top: Bob and Melody Grand watch the video of their son Kyle '11 congratulating his father on the award.
Right: Brian Burdick '91 presents the award to Bob Grand '78.
For more photos, click here.