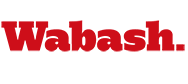 Super Tuesday Brings Out Passion
by Gary James '10

February 6, 2008

Cheers, boos, and interesting conversations echoed from an energized and diverse crowd of students at last night's Super Tuesday Party in the Spark Center's Great Hall.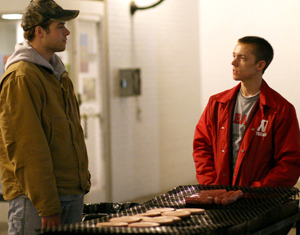 More than 70 students from different houses, dorms, class years, and political persuasions gathered together to watch the Democratic and Republican primary and caucus election results.
The Super Tuesday Party was sponsored by the Political Science Society, the Thomas Riley Marshall College Democrats, and the Will Hays College Republicans. The event served as both a callout meeting for the Political Science Society as well as a sign-up session for its networking trip to the GOP and Democratic Headquarters in Indianapolis on February 21. Those who wanted to sign up could RSVP via Wabash Works on a laptop provided at a nearby table.


"The idea came from the College Democrats," said Brent Kent '08, Chairman of the College Republicans and member of the Political Science Society. "They wanted to throw an event just for the Republicans and the Democrats. We decided to make it a little bigger, and to use it to promote the Political Science Society to get more members. I'm very satisfied with the turnout, very surprised by the turnout. I'm also happy some professors showed up."
Attendees ate grilled hot dogs, hamburgers, chips, and soda as election results tickered in on the flat screen TV, bearing coverage from MSNBC, and the wall projector through which live coverage from CNN streamed.
As news outlets began projecting winners, students reacted passionately.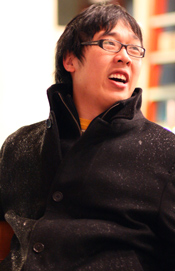 When MSNBC declared New York Senator Hillary Rodham Clinton the winner in Arkansas, Tennessee, Massachusetts, New York, and New Jersey, a table stacked with Clinton supporters cheered and pounded their enthusiasm at the result to counter the boos coming from other tables.
Sophomore Wes Williams from College Hall was one of the students cheering for Senator Clinton.
"I support Hillary Clinton because I think she's the most qualified person to get our country where it needs to be on day one," Williams said confidently. "I think this election is going to be a changing point in the way the United States is going. So it's really important for people to pay attention and to understand who they're voting for and what they represent."
While all viable candidates, with the exception of Romney, had vocal supporters Tuesday night, students supporting Arizona Senator John McCain clearly won the night.
"I'd like to see McCain win the nomination and for the Republicans," said sophomore Steve Zajac, who said he could also support Illinois Senator Barack Obama. "With McCain, he's more moderate than Romney, and I like that. I also am not comfortable with a Mormon president."
Senator McCain won the most states of all Republican candidates. The volume and intensity of his support in the Sparks Center was exponential, extending beyond tables and clusters of people.
"The clapping is for John McCain for winning New Jersey and Connecticut," said sophomore Nicholas Maraman from Morris Hall. "I believe that he's the man to lead America. I like his history. I like his service in the Navy during Vietnam, and I like his maverick attitude."
Faculty members were gleeful at the sight of such student fervor and engagement about politics and the future of the country.
"I think it's a great event because it gets students energized about politics and gets them out to follow the returns," said Professor of Political Science Melissa Butler. "A big and important thing is the energy that's coming out this year. The huge turnout in the primaries. We've always said young people don't vote. This time [they] are voting. I think that bodes well long-term. Because once people start voting they vote habitually. I think this energy is good for American politics."
In photos: Upper right, Michael Hotz '08 and Ben Bly '08 keep an eye on the burgers on the grill while discussing politics. Lower left, John Chaung '08 comes in from the rain and grabs a quick look at results. On homepage, Brandon Stewart '08 ponders the political intrique.