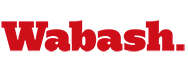 IBJ Calls Craft '00, Fisher '91 Top Leaders Under 40
February 4, 2008

Each year the Indianapolis Business Journal publishes its Forty Under 40 feature of up and coming young entrepreneurs, leaders, and business people. Wabash men have become a staple of the annual list.

Two Wabash men made this year's list. Tim Craft '00 is a Senior Associate with CB Richard Ellis, Indianapolis. The 30-year-old works for the company's property team in acquisition, leasing, purchasing, selling and subleasing. Craft was an English and French major at Wabash, a Lilly Scholar, and member of Phi Gamma Delta.

Tom Fisher '91 is Indiana's Solicitor General. The 39-year-old was the state's first-ever SG. He advises Attorney General Steve Carter and is responsible for the state's U.S. Supreme Court docket and handles many of the high-profile state cases. Fisher was a political science major at Wabash and member of Kappa Sigma.
The IBJ can be found on newsstands around the Indianapolis area.