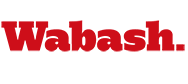 Comedy Improv Used to Teach Leadership
by Brandon Stewart '08

January 25, 2008

Thursday evening provided an opportunity for Wabash students to learn how the techniques of improvisation can be useful in leadership. Mary Jane Pories, an alumna of the comedy troupe Second City and founder of Fish Ladder Inc., led the presentation with the help of an assistant.

To begin, Pories explained how she had gotten involved with improvisation. Her work in Second City fueled her interest in how improvisation could have a positive effect on business which led her to create her own company. Pories explained many of her clients are businesses interested in using improvisation techniques to help them grow and improve. "People are discovering that improv allows leaders to be agile, to think on their feet and make decisions," Pories said.

After briefly explaining some of the basics concepts involved with improvisation, she then got to work. "After all," she said, "the best way to learn to do it is to do it."

For the next two hours, the presentation became interactive, with students going through a number of different exercises to get them to think critically about how improv can relate some lessons about leadership. One activity required the congregated students to break into four groups and go through a series of exercises designed to show that cooperation is crucial for business to be healthy.

At one point in the evening, Pories and her helper pantomimed a variety of skits. In some, she was receptive to her partner's dialogue and efforts, at other times she wasn't. The point of the exercise, according to Pories, was to demonstrate that "you're job is to make sure that everyone else around you looks good."

Throughout the evening, the presenters delineated five main points which summarized their entire message.

The first principle was "Encourage the heart". It was important, the speakers stressed, for good leaders to inspire their employees and colleagues to believe that their efforts are worthwhile. "People are the greatest resource," said Pories, "and our most expensive. When you turn someone away you lose them and their potential ideas."

"Model the way" was the second principle. Leaders must be capable to lead with integrity and to coherently and effectively model the sort of behavior that they would expect in their followers.

Pories went on to explicate the remaining principles, "challenge the process", "inspire shared vision" and "enable others to act" through a variety of exciting and innovative techniques.