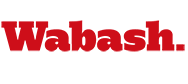 Burrow Jr. Urges Young People to Vote
by Howard W. Hewitt

January 21, 2008

Martin Luther King Day should not be considered a day off, but a day on.

Dr. Rufus Burrow Jr. told students, faculty and staff Monday night the national holiday is not a day to rest but a day to celebrate King's life. "It's not a day to be entertained, but a day to study the man's writings and learn from him," Burrow said.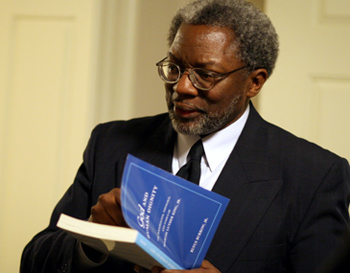 Burrow is the Indiana Chair of Christian Thought and Professor of Theological Social Ethics at Christian Theological Seminary at Indianapolis. His MLK speech was part of day-long activities sponsored by the Malcolm X Institute.
Activities got underway with a noon-time march and luncheon. See photo album here.
Burrow tied Martin Luther King's acceptance of children into the Civil Rights movement to the motivation needed today for youth to lead another revolution.
Burrow said the realization came upon King during the 1963 struggle in Birmingham, Alabama. The Birmingham jails were filled with adults when it was suggested children would make a more powerful statement. Still, King initially resisted. When the campaign stalled, partly because so many adults were in jail Burrow said, King agreed to have children join the marches and demonstrations.
"Black youth, more than their parents or other adults, were willing to take real risks to win their freedom," Burrow said. "From that point on it became a children's crusade."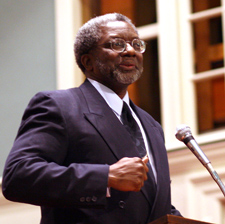 Burrow recalled how the massive number of students caught Birmingham officials off guard. Even though there were approximately 10,000 children jailed during the Birmingham campaign, their inclusion turned the tide of public opinion when officials turned the water cannons on demonstrators.
"Children knew it was the right thing to do even in defiance of their parents, teachers, and schools who thought they were wrong to do so."
They began by registering to vote. Burrow lamented the numbers who registered then after the toughest days of the civil rights movement, but decried the problem even more so in 2008.
"The people of my generation are not risk takers for freedom," he said. "We have played the game to our benefit. We are individualists.
"I am also convinced that my generation is not the one to turn the situation around to achieve King's 'beloved community.' The younger generations is needed to move us into the beloved community."
He lauded the presidential campaigns of Barack Obama and John Edwards for reaching out to young voters. When asked a question following his presentation about what young people can do, he was direct. "You start by registering to vote. And vote!"
"It's your time. It's your time," he repeated throughout his closing remarks. "It's your time gentlemen of Wabash College to demand, not ask, and to fight relentlessly for the American dream."