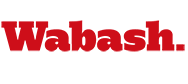 Tom Fisher '91 Led Indiana's Argument
by Jim Amidon

January 9, 2008

The United States Supreme Court Wednesday heard a case that Wabash College students argued last fall in the annual Moot Court Competition.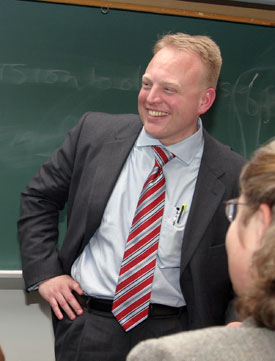 The State of Indiana was represented by Wabash alumnus Tom Fisher '91, Indiana's Solicitor General.
The well-documented case involves Indiana's controversial voter identification law, one of the strictest such laws in the nation. The law requires Indiana residents to have state or government-issued photo identification in order to vote. Even without photo IDs, voters can still cast their ballots provisionally, which become official if they procure a photo ID within 10 days.
It wasn't Fisher's first argument before the Supreme Court — he's been there before — but it does have important national implications, which he explained for Wabash sophomore Patrick McAlister.
"The thing it has going for it is that it's a very important issue — something on the nation radar screen," Fisher explained.
Opponents say Indiana's voter identification law requires citizens to encumber unnecessary burdens in order to vote, which they say is unconstitutional. Indiana Attorney General Steve Carter and Secretary of State Todd Rokita '92 see the law as important in preventing election fraud.
The case has drawn enormous media attention, including a New York Times article on January 7.
Wabash students took on the argument last fall in a brief fashioned entirely on the controversial voter ID law.
"In many ways, it's more interesting to judge Moot Court in that (Wabash) environment than in a law school environment," Fisher says. "At Wabash… the most important thing is whether you can put a complex problem in front of smart students and come up with a useful conversation about it. Time after time, that's what happens. I always take away something that I've never thought about — even in the voter ID case."
Fisher has been entrenched in arguments for months. The case came before Federal Judge Sarah Evans Barker, who upheld the law. Now the U.S. Supreme Court Justices will decide.
"With the voter ID case, it wasn't as difficult to write the briefs and get ready for the argument because I've been living with that case for two and one-half years. I've been at every stage — argued it in the court of appeals and wrote the briefs.
"But it is a lot more work to do a Supreme Court case than just about any other case."
In Fisher's case, he says Wabash prepared him well.
"I think Wabash makes its students better people in a variety of ways, one of them is because it teaches them to love learning and the process by which we advance knowledge," adds Fisher. "I try — especially when it comes to Supreme Court cases — to imagine myself in that role. I'm not making the law, but hopefully I'm helping the Court advance the understanding of the law and the knowledge of the law and I think has at its core what the liberal arts mission is about and what the law is about."