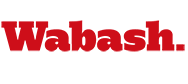 Wabash Club of Chicago Hosts Pat and Chris White
by Tom Runge

December 11, 2007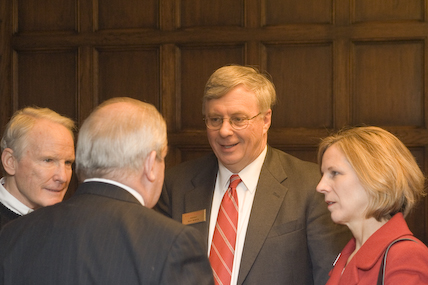 A large crowd of Chicago area Wabash alumni and friends braved the Holiday traffic and the freezing rain to welcome Pat and Chris White back to Chicago. In fact, the group was the largest one on record for the annual Wabash Club of Chicago Holiday event.
Club president Greg Jania '93 welcomed everyone to the Tower Club on the 39th floor of the Tower Building on Wacker Drive. The view was superb, even thought the persistent rain tried to cut visibility.
The group welcomed back two very special alumni - Wabash's 14th President Andy Ford H'03 and his wife Anne H'06.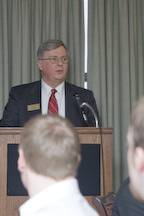 After lunch, Jania introduced Wabash 15th president, Pat White, who updated the group on this year's school year. He thanked local alumni, the second largest group of Wabash alumni, for all their support in the areas of Admissions, Career Services, and Sports. Pat noted he recognized several of the group who made the trip to Whitewater, Wisconsin for Wabash's playoff game there.
Many thanks to the Chicago Club for hosting a superb luncheon and especially to Greg Jania for setting up the event.

For more photos, click here.
Top photo:  Pat and Chris White talk with Fred Pipin '59 (l) and another alumnus.
Photo right:  President White addresses the group.