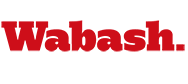 Haltom's Three Lifts Wabash to Win
by Brent Harris

December 8, 2007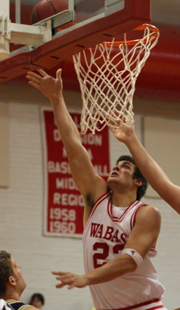 Sophomore guard Chase Haltom drilled a three-pointer in the final minute of overtime to lift the Little Giants to a 60-57 victory over Marian College Saturday afternoon at Chadwick Court. (View photos from the Little Giants' victory.)
The Knights had taken a three-point lead on a trey by Anthony Furlin with 3:10 left in the extra period before a steal and layup by Wes Smith trimmed the Marian lead to 55-54. Andrew Zimmer stole a pass on the Marian offense end of the floor, but Wabash failed to convert when a three-point attempt rimmed out and was knocked out of bounds by the Little Giants. Wabash got the ball back, however, with a defensive effort that forced a five-second call and the 19th turnover of the game for Marian. This time the Little Giants would turn the mistake into points when Zimmer tipped in another missed trey to put Wabash up one.
That lead lasted for less than 20 seconds. A Wabash foul sent Brandon Buscher to the line, where he hit two free throws to put the Knights up 57-56. Once again the lead would only survive for 20 seconds. Brock whipped a pass to Haltom on the left wing. Haltom fired the shot toward the hoop, sinking it with 28 seconds left in overtime.
Marian tried to work for the final shot of the game, but another turnover fell into the the hands of Brian Maloney. He was immediately fouled and hit one of the two charity tosses. The Knights had one final attempt to tie the game, but JR Howell's three-point attempt from the right corner was swatted away by Gary Simkus.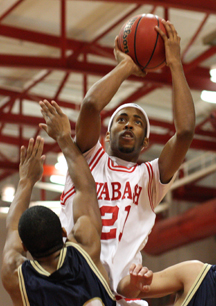 Maloney provided a solid inside presence against a stout Marian defense. The junior posted season highs with nine points and eight rebounds. Five of his eight boards came on the offensive end of the floor, helping the Little Giants score 14 second-chance points. Zimmer was held scoreless from the field by the Knights until he hit a jumper with 46 second remaining in regulation that tied the game to send it to overtime, but was otherwise shut down.

The Knights' defense held Wabash to 2-14 shooting from beyond the three-point arc and 17-of-55 from the field through regulation. Haltom hit one of Wabash's four treys in the game just over a minute into the overtime to keep the contest even at 52-52 to set up his last-minute heroics.

The Little Giants trailed by as many as seven points in the second half before a foul and a technical on the Knights allowed Wabash to hit three free throws. Wabash kept the game close from their before Zimmer's first basket sent the game into an extra period.

Haltom led the Little Giants with 13 points. Simkus and Smith each added 11. Brock added nine points, while Zimmer finished with seven.

Wabash improves to 4-3, winning its second game in row while handing the Knights (4-5) their fifth straight loss. The Little Giants are off during finals week before taking on Franklin College Tuesday, December 18 at 7:30 p.m. at Chadwick Court.

Photos - (top right) Aaron Brock scores two of his nine points in the Little Giants' overtime win.

(Bottom left) Wes Smith scored in double figures for the third straight game, finishing with 11 against Marian.




Results: Wabash 60, Marian 57 (ot) Game Stats