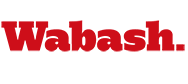 Carter Swears in Church '92, McLean
by Howard W. Hewitt

December 4, 2007

Two men with strong ties to Wabash College have joined the Indiana Attorney General's staff as Deputy Attorneys General. Indiana Attorney General Steve Carter visited campus Monday to swear in Jay Church '92 and Ian McLean.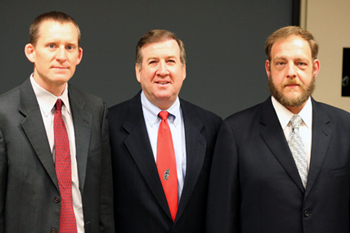 McLean is the son of Edward McLean who taught Political Science at Wabash and was a Montgomery County deputy prosecutor. Like his father, Ian worked for the Montgomery County Prosecutor's Office. He also served as a Clerk for the U.S. District Court and Court of Appeals. He will join the Criminal Appeals Division of the AG's office.
Church will be working in the Transportation Department of the AG's office. He has interned for the U.S. District Court for the Southern District of Indiana and practiced law in Hamilton County for 10 years.
Carter made brief remarks before swearing the two men into office. "We believe one of the most important things we do is to identify talented individuals to come to work in our office," Carter told the gathering of family and friends. "We want to make sure they're the type of individuals who fit into the culture of our office and have a real drive to serve the public.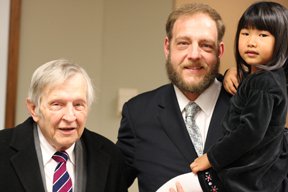 "I commend Wabash College for its rigorous curriculum and invaluable opportunities provided to its students. It's an excellent school and consistently produces talented individuals."
Carter's office noted that approximately 10 different people with Wabash roots have worked in the Attorney General's office over the past seven years.
Church brings not only his legal resume to the task but also significant citations for his pro bono work.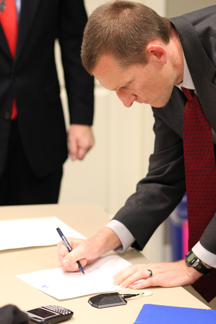 "From day one of being an attorney, I felt that was an important part of my responsibility," Church said. "I've always accepted pro bono cases. The cases I accepted are typically women in domestic violence situations like divorce cases. I do it first because I think I have a responsibility to do so. But to be honest, it's always a wonderful feeling and very satisfying to help someone out under those circumstances.
"And really going back to Wabash, that is something I got out of my time here. That was always important in the fraternity and on campus to spend some time giving back and doing something for others."
Church has been recognized by the Indiana Pro Bono Commission and Indiana's Chief Justice for his pro bono legal work.
"We're honored to welcome these experienced attorneys as valued additions to the office," Carter said. "Both bring a broad array of capabilities in many areas of the legal practice and we are thrilled to have them on board."
In photos: Top right, Church, Carter, and McLean. Center left, Professor McLean and his son. At right, Church signs the official papers after the swearing in.