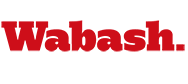 Wabash Prepares for Elite 8 Showdown
by Jim Amidon

November 29, 2007

When the Wabash College football team faced Case Western University in the second round of the NCCA Division III football playoffs last Saturday, there were so many similarities both teams had a good idea what to expect.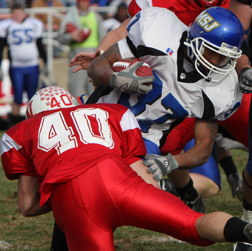 Wabash and Case boast big-time linebackers in Gagliardi Award finalists Adi Pynenberg (left) and Tom Brew. Both teams had prolific offenses led by solid sophomore quarterbacks. And the two teams faced five common opponents with each team going 5-0 in those contests.
Wabash jumped out to a 21-0 lead and knocked Case Western out of the playoffs with a 38-23 victory in Cleveland.
This week the Little Giants travel to Whitewater, Wisconsin to play the second-ranked Warhawks of the University of Wisconsin-Whitewater. Aside from the fact that Wabash and UWW won their respective conference championships to get into the playoffs, there are virtually no similarities between the two football programs and the colleges they represent.
With just over 900 students, Wabash is tiny compared to UWW's enrollment of 10,700. The Warkhawks compete in the rugged Wisconsin Intercollegiate Athletic Conference (WIAC), which is made up of the University of Wisconsin regional campuses; most of them are about the same size as Whitewater. Wabash, on the other hand, competes in the North Coast Athletic Conference that features some of the top private liberal arts colleges in the country.
The Little Giants haven't played in the national title game in 30 years when the 1977 team lost to Widener in a Stagg Bowl shootout. Whitewater has fallen to Mount Union in the last two national championship games.
N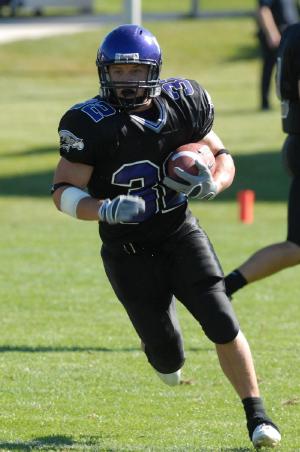 one of that matters Saturday. When the opening kick sails through the air, it'll be a classic Division III playoff game between two schools with tremendous pride and football tradition.
One of the neat similarities this week is the matchup between two Gagliardi Award finalists. Pynenberg, Wabash's national player of the year finalist, will see plenty of another Gagliardi Award finalist when Whitewater's star running back Justin Beaver (pictured right) takes the field. Pynenberg owns the Wabash records for most tackles in a season and in a career. Beaver has rushed for 2,001 yards and 13 touchdowns this year and more than 5,000 yards in his career.
Some people have called this game a "David and Goliath" battle; others see the game as a battle between two elite programs, one that could come down to special teams and turnovers.
"I like being the underdog," says Wabash's Pynenberg, who was labeled too small to play at the college level. "I feel like I was born that way. I've been the underdog all my life. I've always been told I was too short and too small to be a good college football player, so I'm comfortable being the underdog."
Pynenberg knows that when the whistle sounds, it's 11 on 11 and anything can happen.
"We've got to be ready Saturday," he said. "We can't be afraid of Whitewater simply because they're the number two-ranked team in the nation and have been to the national finals the past two seasons."
Wabash has proven it can rise to challenges as a football team. When All-American quarterback Dustin Huff was lost to a broken leg in the season-opener, Wabash regrouped and reeled off eight straight wins. After dropping a heart-breaking loss to DePauw on a last-second, 47-yard field goal, Wabash regrouped to drub Mount St. Joseph and Case Western in the first two rounds of the playoffs.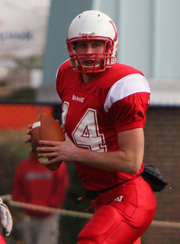 "Being the underdog doesn't change our mind set going into this week," said sophomore quarterback Matt Hudson (left), who has gone 9-1 after being thrust into the starting position in week three of the season. "We're focused on going 1-0 Saturday just like we have been the previous 12 weeks.
"I'm looking forward to the opportunity to play the number-two-ranked team in the country," he said.
Hudson, who has thrown for 2,603 yards and 24 touchdowns, while completing 69 percent of his passes, is a big reason for Wabash's success. He's spread the ball around sufficiently to a stable of seasoned receivers, including seniors Mike Russell (61 catches, 760 yards, 5 TDs), Bart Banach (39-610-7), Gabe Guerrero (25-419-6), and Ray Green (20-344-5). Fellow second-year player Brock Graham has been a huge asset for Hudson, rushing for seven touchdowns, while leading the team with 64 receptions and scoring another five touchdowns.
Hudson's success — and Wabash's rejuvenated running game — are directly related to stability on the offensive line, which suffered several injuries in the pre-season and early games of 2007. Led by senior all-conference tackle Brian Hilts, Wabash's offensive line has paved the way for 1,307 rushing yards, 3,521 passing yards, 52 touchdowns, and has allowed just 16 sacks in 12 games.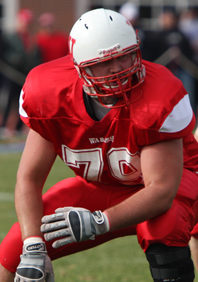 Hilts (right) says the team will prepare for its Goliath of a game just as it always does — with preparation. "Being the underdog doesn't change our preparation this week," Hilts said. "We have to give our best effort this weekend to win; we always believe we can win if we put in the effort. This game is winnable if we just go out and give our best effort."
Hilts and his line mates made room for Evan Sobecki to rush for 113 yards in the win at Case Western.
Obviously, the most critical part of game-planning for Wabash will be formulating a way to slow down two-time All-American Justin Beaver, who has been a star running back in a program that has a history of top-notch runners. Beaver, a 5-9, 200-pound senior, averages 167 yards per game behind a massive offensive line and an efficient quarterback in Danny Jones.
Jones hits on 56 percent of his passes, averages 170 yards per game, and has thrown for 17 touchdowns. His favorite target is the speedy wide out Neil Mrkvicka, whose 61 catches and 833 receiving yards lead the team.
After being knocked around in the Monon Bell game, Wabash's defense has tightened up in the first two rounds of the NCAA playoffs, holding Case to minus-29 rushing yards on the strength of five quarterback sacks and 13 tackles for loss.
"The fact that this will be the best team we've played all year just means we have to be more prepared than any other game this season," added Hudson. "We have to make certain we're watching film and we have to get great looks from the scout offense and defense."
Tickets for the game, which Whitewater will host at 12:00 p.m. Wisconsin time (1 p.m. local), are $10 for adults and $4 for students, and will be available at the gate beginning at 10 a.m.